Hot Winter Fishing in South Walton
November 11, 2012 by Larry Pentel
The weather may be cool (downright cold a couple of mornings), but the fishing is still hot. The only real issue with the cooler weather is the wind from the fronts makes it to rough to fish a few days each week. Oh well, I've got lots of broke tackle to fix.
I got to fish myself one morning over at Indian Pass in between fish camp projects. I got a couple hours in with no wind, clear water and a great Redfish bite. I got to sight fish by myself. Pick up the push pole and pole a couple times, set it down and pick up the spinning rod, line up a fish and cast. I landed 6 reds in 45 minutes and missed several more. The wind picked up on me though and it ended quick.. went and caught a few nice trout and some really good oysters though.
Back here in Grayton/Seagrove the jacks have been the mainstay on the calmer days when we get to fish. A few (big) greater Jacks and LOTS of lesser (amberines) Jacks. Quite a few of the lessers are over the 22' slot max so to catch a limit we have been getting to land a bunch!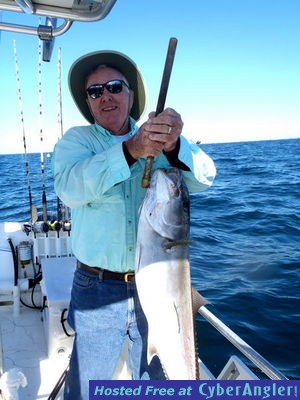 This fellow was celebrating his 70th Birthday by catching big fish!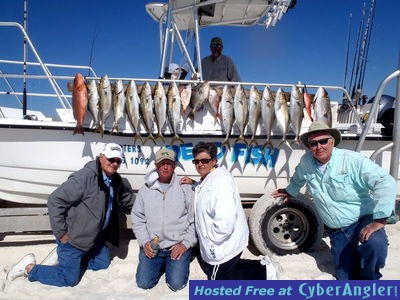 He also caught that big Black Snapper and several fine Gags we released.
These folks had a great catch including a limit of jacks. They wanted to fish an additional hour so I suggested we try flounder fishing. It took a few bites to get it down but they added 7 nice flatties to an allready great catch.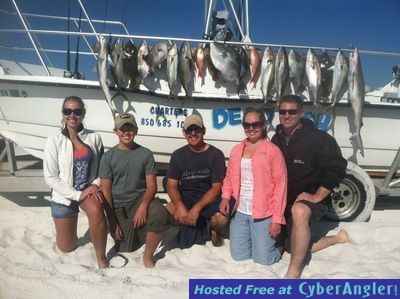 Happy clients - Look at the Size of that Trigger Fish!
I don't think we have landed a legal Red Grouper since the Gag season closed the 1st of the month. Still plenty of Gags biting though.

I have to throw this back too?
Yep-- Lots Of big Snapper to Release as well.
These guys fished with me 2 days in a row. The first day we had a great box but they got schooled by quite few big Greater Jacks.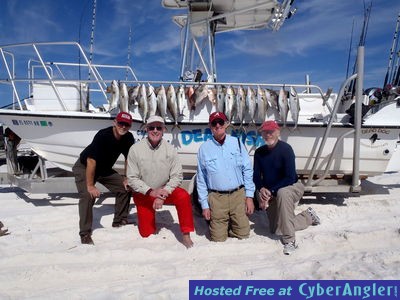 Tired but Happy!
The second day they wanted rematch. We went where the Jacks were living and they got three fine Greaters up off the wreck and all the way to the top... where 2 of 'em were met by a couple of big voracious sharks.


The landlord let 'em keep one big Jack and a whole bunch of regulars!
I'm off to Indian Pass in the AM to spend a week over there chasing Trouts and Reds. There is another front coming through so I think we'll be weathered out tomorrow and Monday.... and then have some great conditions the rest of the week - get out there and catch something ! 
Tagged
Add comment