It's O'Fishily Spring in SoWal
March 10, 2013 by Larry Pentel
The past two weeks have brought the annual change to the beach here in South Walton. Most of our winter snowbirds have moved back up north and the crowds of younger spring breakers have arrived. Luckily for me there are all kinds of folks that love to fish!
The Jacks are still cooperating nicely with the larger Greaters being the target species on the longer four hour trips and calm days. The Vermillions have started their migration in towards the beach and we have found some good stands of them on a few trips. I have been able to run five trips this week on some beautiful days. With it being March, we are still getting some blows though, and I am on the hill today and for sure tomorrow as well.
Happy snowbirds with a great catch - they had 30 Vermillions!
 
Hangin' on tight with a Jack on the end.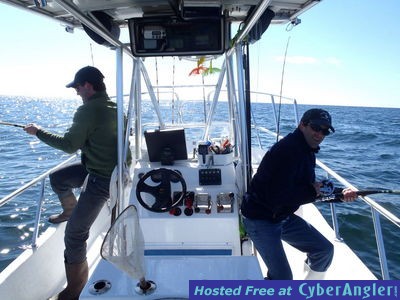 They're both hanging on tight with big AJ's on!
 
These guys were treated to great Jack rally!
 
Spring breakers making some great memories!
 
These guys got on the boat and just wanted "BIG"- I think they pulled it off!
 
These folks wanted to run 20 miles and chase the big Jacks but the weather had other ideas---the fallback plan had 'em catchin' plenty of fish and a full board on a 3-hour instead.
We had a Mako chase a hooked fish up to the boat about six miles out this week. Capt. Jody caught one the next day (hooked 'em in the tail with a two hook rig!). The Makos usually show right after the Cobia. I haven't heard of a Cobia seen yet, but with the Mingos and Makos moving in, they should be here any day! Already some Pompano caught in the surf and I caught a Cigar Minnow and a big squid on a bait rig a half mile off the beach this week!
Sharpen your hooks, get some fresh line on those reels you just greased and get out there. The spring run of just about everything that's fun to catch is fixing to start!
Tagged
Add comment