Look Out Finny Critters Here We Come in 2011
January 2, 2011 by Larry Pentel
The beach here in Northwest Florida had its usual population increase for the week between Christmas and New Year's. Lots of folks in town and a bunch of 'em wanted to go fishin'.
The weather however did its winter thing and only gave us two nice calm days to run out and chase the finny critters.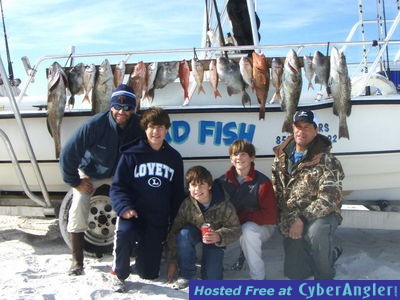 Tuesday after Christmas I had a regular and his brother, both experienced anglers that know the drill. A beautiful day with calm seas so I pointed the Dead Fish South and we blasted offshore, fishing our way out to about 18 miles.
The bite was as good as it gets. My guys caught some pinks and rubies that we put in the livewell and a few triggers for the box and then we started grouper fishin'. I know that NMFS says the grouper population is down but the fish seemed determined to prove otherwise.
We had no trouble getting a limit of Groupers in fairly short order,4 gags, 3 Reds and a Scamp. One of the Gags was a little over 20 pounds and we had a Red over 25 pounds. Okay, we have a great box but still plenty of time on a 5 hour, let's go chase Amberjacks!
I ran to a big wreck and the Jack bite was on. We caught about 8 on live baits, keeping 2 in the 30-35 pound range and I picked up a jig rod to catch a fish myself. All the way down, bounce it twice and... BAM. Only I didn't get an AJ but another 20 pound GAG. Released that one, dropped back down and REPEAT! Another big Grouper.
One of my anglers decided they needed to try and sure enough--yet another grouper to release! Both my guys were beat down and plenty happy with a fantastic catch. The new motors on the back are running perfect and we made short work of the run in at 30 mph.
I forgot to mention- We caught some BIG Snappers too!
A great catch for the end of a fishy year.
Wednesday I had a completely different crew. With 2 dads and three young men on the boat I was a little hestitant to go shoot at the Jacks,hot as they were, thinking that the boys might be a little out gunned. We stayed up in a little closer and had a bunch of great grouper bites managing to get every angler to land at least one keeper and losing some big ones to the botom. Add a few Triggers and some Vermillions and we had so much fish we released a just legal Gag and a Scamp as well. My anglers were kind enough to leave me a few dinners after they took all they thought they could eat.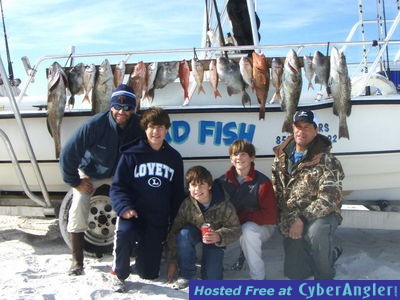 Happy Anglers
The Feds ( NMFS) have shut Gags down indefinatly, at least untill June. So far the State hasn't followed along so we should still be able to get some nice catches of Groupers as long as we stay within 9 miles. My last trip proved that there are lots of fish in State waters so I don't see too much changed from our usual winter fishin'. Just have to get the pretty days when it's calm and warm before you blast out into a January Gulf ! I am over at Indian Pass for the first week of the New Year to try to paint the fish camp and hopefully get in some Redfish and oyster time. Always a project going in the winter.
Happy New Year !
Tagged
Add comment