Story
Mahi Madness in South Walton
September 25, 2018 by Larry Pentel
The big fish news the past 10 days has been the Mahi!
While Panama city had a touch of Red Tide that seemed to make national news, we have had the prettiest water of the year off Grayton. Clear deep blue "offshore " water within 5 miles of the beach some days. Patchy grass lines that move in and out, no big islands of grass or thick lines but a distinct tide line that has had a lot of Mahi scattered along it.
The first day I found it was last week on a 4 hr. trip with my ace Jr. angler and his sponsor (Dad). We started out Amberjack fishing and hooked some nice ones on the first stop but the sharks ate us up and wouldn't let us land a big one. I took off to run and tripped across the grass line, put out a couple live baits and ... we're on !! We stayed and kept 30 including a few pretty big ones for light spinning tackle. Our time was running out so I made a quick bottom stop for Triggers and a King stop to fill out the box. It's been on and off with 'em since... if you can find the line and take the time to drag baits down it you will run into Mahi eventually, smaller "grasshoppers" to pretty big Bulls. All great sport and wonderful dinners..
The Vermillions are still thick, plenty of Triggers with a few of 'em big enough to keep, scattered Kings of ALL sizes, from shorts to WHOA that drag is going out sized, Plenty of Amberjacks around with a few of them yard stick or bigger sized for the box as well. We have caught a couple scamps this past week and even a nice Red Grouper after not seeing any Groupers for a while.
Pics for Proof!
My 11 year old 'Ace" has now decided that Mahi are his favorite fish to catch rather than Kings.....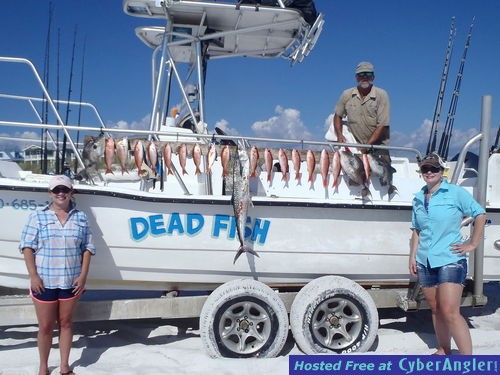 These 2 gals had a blast on a 3 hr afternoon trip with Triggers, Vermillions and a big King
This fall break family had a limit of Kings and Triggers in the box on a 4 hr trip!
Fall break dads and kids with a pile of Mahi, Triggers and Kings
Just to prove that first dads weren't any better fisherfolk than the next days dads and kids ......
These 3 had a blast catching not only Mahi, Kings and Triggers but a legal AJ as well.
One of my rare 6 hr trips, I usually run 3 & 4 hrs. These guys had a limit of Amberjacks & Triggers, some Mahi, a scamp. a big Lane and a limit of Vermillions still in the box.
It's a little breezy today with scattered thunderstorms about. We came in early this AM and I canceled my afternoon trip but...... there was a grass line trying to form about 5 miles offshore, we just didn't have the time to fish it and beat the weather back in. I am looking forward to (hopefully) another few days of Mahi rallies!
Tagged
Add comment