Story
Mama Clemenza's Keeps Breakfast Fresh
June 12, 2015 by Audrey Johnson
"You probably need to put on about 3,000 miles to find all of this in Europe," said Dom Damiano, owner of Mama Clemenza's European Breakfast. 
I sat staring in awe at the Pastry Platter piled with high with the best things in life - carbs. Gracing the platter: a blueberry muffin made with pancake batter; sfogliatelle; chocolate and butter croissants; cranberry and chocolate goat-cheese medallions; and shaved prosciutto and parmesan.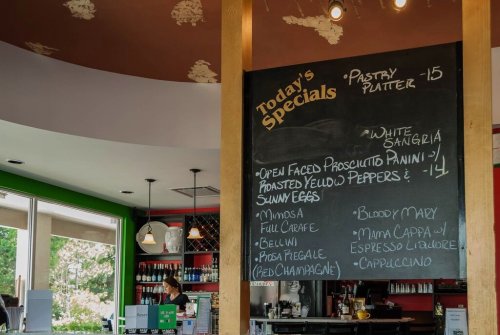 Dom grew up in an Italian neighborhood in Chicago where he learned how to cook from the best, Italian mothers and grandmothers who put family first, then food. Dom's wife Tammy-aka Mama Clemenza-spent her childhood in the country outside of Chicago with her Sicilian mother and Black Irish father, who's genes are evident in her silky dark hair and piercing blue eyes. "I'm always fighting myself," she joked. Farm-to-table wasn't a catchphrase there, it was her family's way life.
Mama Clemenza's bistro-like atmosphere is comfortable for the entire family. Whether seated on the covered patio, at the bar, or at a table by the window, Dom and Tammy make their rounds and connect with each and every person as if they're guests at the kitchen table.
Tammy and Dom started their first restaurant, renowned local favorite Fat Clemenza's, to give people a place to eat wonderful Italian food that was as consistent as it was delicious. And they're extending the tradition of excellence into breakfast with Mama Clemenza's, located right next door to Fat's.
 
"For two years on Sundays I was at home doing the test kitchen and we were cranking out recipes and ideas," Dom said. "When we got done with the menu we stood back and looked at it and said, 'We've created a monster.'"
Eggs Benedict gets a welcomed update with a fluffy Yorkshire-pudding-muffin base layered with prosciutto and a spoonful of hollandaise sauce, while Homemade Lemon-Curd Ricotta Pancakes induce love at first sight.
The Mediterranean Egg White Omelet, with fresh tomatoes, feta cheese and spinach, and the Roasted Chicken Omelet, with caramelized onions, mushrooms, and Gruyere cheese, separate the men from the boys in the kitchen.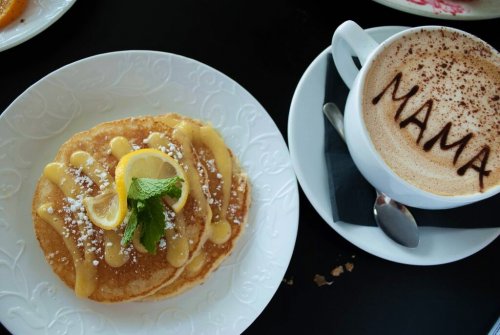 A chef who can make a good omelet is the real deal, but to me, the hallmark of any breakfast spot is its coffee. Mama's Famous Cappuccino, custom roasted and served in a gargantuan cup with Mama written across the froth, is a meal in itself.
"It takes a pretty high skill level to produce this product," said Dom. And with dishes on the menu the likes of Croque Madame, an open faced egg sandwich with béchamel sauce, prosciutto and Gruyere, and the unofficial breakfast of the South-New Orleans Shrimp and Smoked Gouda Grits- it's easy to see that Executive Chefs Bryan Ahern and Adam Kness have the skills to pay the bills.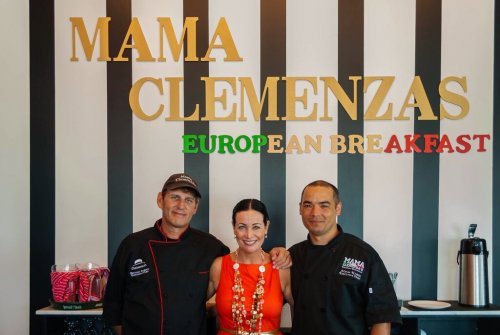 In addition to the mouthwatering breakfast menu with serving sizes that will hold you over until dinner, Mama Clemenza's has a full bar featuring a superb wine list and breakfast beverage mainstays, Bellini's, Mimosas and, Spicy Bloody Mary's.
In the heat of summer, Mama's fig trees will erupt with delicious fruit and she'll bring them to the restaurant where they'll be transformed into something fresh and wonderful, and no doubt featured as the day's blackboard special. "Mama Clemenza's is an enigma," said Dom. "It's an amazing breakfast and the food is unbelievable."
Mama Clemenza's is located next door to Fat Clemenza's at 12273 US Hwy 98 in Miramar Beach. Stop in daily for a leisurely European Breakfast from 8 am-1 pm. Private brunches, special events and wedding showers are available. For more information, please call (844) 246-MAMA or visit www.facebook.com/MamaClemenzas.  
Tagged
Add comment