Merry Fishmas and Happy New Reels
December 31, 2013 by Larry Pentel
Been a busy couple weeks here in South Walton at Holiday season. As usual, lots of folks have come to celebrate the season here and luckily for me some of 'em have wanted to go fishing! The weather has been the typical up and down for this time of year with a little more down this year than most.
Even with cool temps and overcast skies the calm days have had some fantastic catches, even on a couple of fairly breezy days we stayed right up on the beach where the North wind still left it calm and my folks were able to limit out on Flounders without ever having to run more than a mile or so from the truck.
Here's some holiday fishing happiness in pictures...
These folks fished with me Christmas eve and had a blast catching a limit of Flounders (40) and a Trigger.... all within a mile of the beach.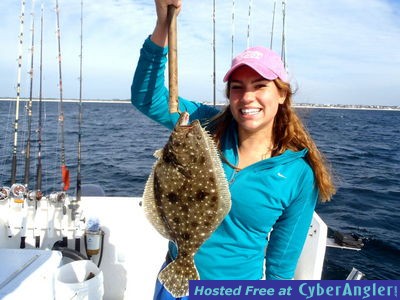 This gal was so excited about her flatfish she made me take this pic.
 
The rest of her Family figured out Flounder fishing pretty quickly as well and after catching our 50 fish limit we fell off the beach with enough time to fish a close in reef... and Dad caught this fine Red Grouper.
Red and Green on the day after Christmas!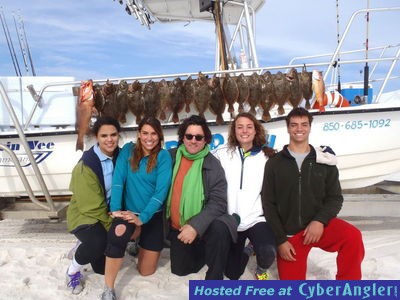 Here's the family with all that would fit on the board.
 
The next day was chilly and my group decided that 25 head of Flounders was plenty for Holiday dinners and we actually came in early.
Our beach mascot, "Little Bird" shows his approval of a fine catch.
 
After a couple rough days we had a slick calm morning that let me run offshore. This group had fished with me about a month ago and still had Flounders in the freezer from that trip so they asked to catch Jacks and "anything else that pulls hard and tastes good".
This fellow will vouch that a big Red Grouper pulls hard!
 
Not to be outdone this (ace) Gal angler put one in the box as well.
 
The whole group with part of a 70 fish box.. we made 1 quick flounder stop on the way in so they could have four fresh ones for dinner too ...and did it all in 4 hours.
A little bumpier the next day but not to bad only 3 miles out.. where we got our limit of Jacks, a couple Triggers a shark and a PILE of Pinks.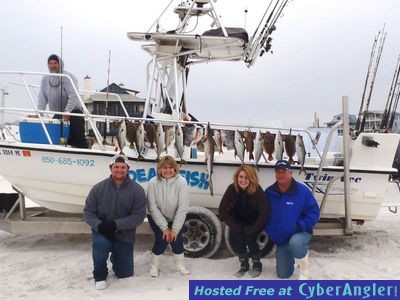 And we still had enough time to make a couple stops at the end of the 4 hour trip to catch a dozen Flounders!
 
The Flounder bite has all ready started to slow a little as the fish fall of the beach with the bait as the water temp cools. I am now having to fish in 60 to 65 ft instead of 40 to 50 ft to catch flatties. The good thing about this is the jacks have moved in closer to intercept the bait as they don't mind 70 ft of water. The Grouper have started biting a little better as well... I had a young man land 2 FINE Gags yesterday while we were getting our Jacks ( on small dead minnows no less). The falling temps have also brought the Sheepshead into the bays for thier annual migration and "Pile Up" around area bridges. I haven't had time to chase 'em but have seen plenty of pics on cell phones with stories of 20 to 30 fish catches.
Plenty to catch, even in the middle of winter...
As often as I get to take everybody else fishing here, one of my Christmas presents (from a great daughter and son in law) is a fishing trip to Mexico in 3 weeks. Now as good as the fishing is here I still can't wait to get some shots at fish I have never seen before. We have a day of chasing Roosterfish and 2 days of Striped Marlin fishing lined up. Not only do I get to fish but I don't have to drive the boat, cut bait or even clean up afterwards !!!!!! That's a big deal for the captain.....I may even get to drink a couple beers with the motors running, been years since I could do that!
Happy New Reels (er Year) everybody !
Tagged
Add comment