Story
Moe's Original Bar B Que is Coming in Hot to PCB
February 23, 2014 by SoWal Staff
Award-winning Moe's Original Bar B Que will soon be serving up southern-style bbq and soul food in Panama City Beach! Opening any day now, Ryan Helsley, Will Casanova and Trace Armstrong are putting the finishing touches on their restaurant located just east of Pier Park. The BBQ joint features Alabama-style BBQ, seafood favorites such as fried catfish, and made from scratch southern sides. Beer and wine will be served as well as specialty cocktails such as the Bushwacker and Bloody Moe. 
Located about a half of a mile east of Pier Park on Front Beach Road across from the beach, the 2000 square foot fast casual restaurant seats about 50. You'll find a warm atmosphere with a beachy theme filled with surf boards, fishing gear, old driftwood and carved fish throughout the wooded interior. A large patio wraps around the the building with a tiki hut bar and HDTVs for guests to eat, drink and take in some live music.
"While we know we're in a key location for Spring Breakers, we want families and children to always feel welcome," said co-owner Ryan Helsley. "We plan to be a favorite spot for locals all year round". 
Helsley and co-owners are thrilled to bring Moe's southern soul revival menu to the heart of Panama City Beach, and promise their visitors good drinks, good times and great food. Moe's menu features sandwiches and platters of pulled pork, ribs, wings, turkey and chicken smoked over hardwood, unique sauces, fried shrimp and catfish, and sausage. Additionally, six to eight sides are served fresh daily from recipes passed down for generations such as cornbread, baked beans, slaw, potato salad, banana pudding and daily specials. You can "haul it home" with take home packs. Moe's also offers catering services for special events.
Learn more about Moe's Original Bar B Que at Panama City Beach on the website. Follow Moe's PCB on facebook for updates on opening date and upcoming events. Moe's PCB is set to open the first week of March and will be open daily from 11am to 10pm. Located at 14896 Front Beach Road, Panama City Beach, Florida 32413.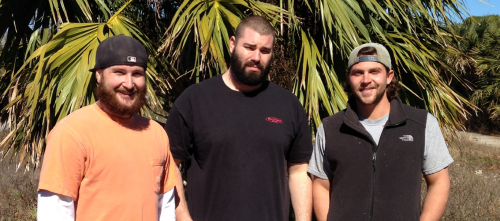 Will, Trace and Ryan open new Moe's Original Bar B Que in PCB
About Moe's Original Bar B Que Years after learning to fire roast meats in Tuscaloosa, Alabama, Mike Fernandez, Ben Gilbert and Jeff Kennedy founded Moe's Original Bar B Que in Vail, Colorado in 2001. Named one of the Top 10 Rib Joints in America, Moe's Original Bar B Que has 28 other locations in AL, CO, GA, ME, NC, OH and TN. The popular restaurant features a Southern soul food revival with pulled pork, ribs, wings, turkey and chicken smoked over hardwood served with two unique sauces as well as southern favorites such as fried catfish and shrimp sandwiches.
Tagged
Add comment