Story
Music in Pictures Awards Ceremony and Concert at Rosemary Beach March 3
February 25, 2013 by SoWal Staff
There are so many talented and creative students in the Walton County area, and through the various schools and educational foundations, there are extensive opportunities to encourage those talents. One of those creative opportunities was recently offered through the Rosemary Beach Foundation.
As part of Rosemary Beach Foundation's 2nd Annual Music in Pictures, approximately 1,300 students from 14 Walton County schools listened to and visually interpreted musical selections from Carnival of the Animals by French composer Camille Saint-Saens. The grand prize winners will be recognized at the March 3 ceremony followed by a concert with international award winner and assistant violin professor at Florida State University, Benjamin Sung, along with principal cello of the Tallahassee Symphony, Gregory Sauer.
Benjamin Sung
The public is invited to a FREE awards ceremony and concert on Sunday, March 3, 2013 at 3 p.m. in the Rosemary Beach Town Hall.
The musical program will feature selections from different eras and different cultures. The violin and cello have been beloved instruments of musicians, composers, and audiences since they first appeared on the scene in the 1500s. It is fascinating to realize how much variety there can be in the music written for them. The music on our program will range from Italian works from the earliest days of the violin and cello to a bluegrass-inspired offering by American fiddle icon Mark O'Connor.
Gregory Sauer feels that "Arts education gives students a tangible way to experience the purpose of all learning: not simply to receive and store information and skills, but to be enabled to synthesize those gifts in a new and creative way that continues the process of cultural growth."
Gregory Sauer
 
Educators received their teacher's manuals and musical CDs in September 2012. The students studied the composer, Camille Saint-Saens and his musical style, then listened to six selections from Carnival of the Animals. Students were asked to interpret one or more of the selections in a piece of artwork. This adventure produced many creative interpretations of: The Royal March of the Lion, The Aviary, The Aquarium, The Kangaroo, The Elephant and The Swan.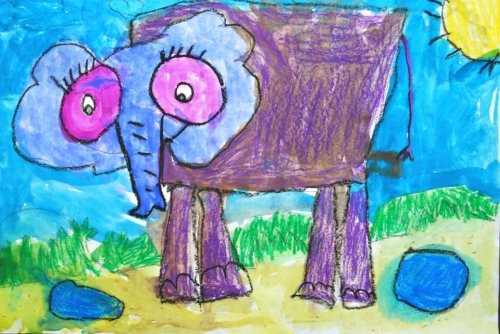 The art was submitted to Rosemary Beach Foundation in January 2013. A panel of judges selected 12 grand prize winners based upon the interpretation of the music.
- Mate Thomas, Van R. Butler Elementary, Pre K – K
- Jala Thorne, Maude Saunders Elementary, 1st Grade
- Lizette Robles, Van R. Butler Elementary, 2nd Grade
- Aiden Tidwell, West Defuniak Elementary, 3rd Grade
- Maria Flores, West Defuniak Elementary, 4th Grade
- Connor Price, Maude Saunders Elementary, 5th... Grade
- Elizabeth Pippin, Paxton School, 6th Grade
- Cristian Ciuche, Emerald Coast Middle, 7th Grade
- Wylie Martin, Seaside Neighborhood School, 8th - 9th Grades
- Joanna LaQuerre, TESLA, 10th - 12th Grades
- Malyia Dorsey, Walton Middle School, Masterpiece Award (All Grades)
- Justus Castillo, Paxton School, Chairman's Award (All Grades)
Participating Walton County Schools:
Compass Rose Academy
Emerald Coast Middle School
Freeport Elementary
Freeport Middle School
Maude Saunders Elementary School
Mossy Head School
Ohana Institute
Paxton School
Seaside Neighborhood School
South Walton Montessori Academy
TESLA - Technical Engineering Science Learning Academy
Van E. Butler Elementary
Walton Middle School
West Defuniak Elementary
The artwork will be exhibited during March in Rosemary Beach (Amavida, The Hidden Lantern Gallery, Summer Kitchen and Wild Olives) and Wells Fargo branches (Carillon Beach, Redfish Village and Sandestin), in April at Sacred Heart Hospital, and in May at the Coastal Branch Library and Cultural Arts Alliance, Bayou Arts Center.
Music in Pictures is presented by Rosemary Beach Foundation and sponsored by Wells Fargo, St. Joe Community Foundation, The Hidden Lantern Gallery, Winky and Bill Dowdle,  and The Merchants of Rosemary Beach.
Rosemary Beach Foundation, Inc. is a 501(c)(3) non-profit charitable organization under IRS ID#20-3764896. For more information visit www.rosemarybeachfoundation.org
Tagged
Add comment