Story
New Year, More Fish
January 5, 2016 by Larry Pentel
Happy New Year to all South Walton fishing fans! I realize I haven't written a fishing report in about a month. I took two weeks off for my daughter's wedding the start of December and the last 2 weeks of the year were nothing but wind and rain.
I ran a Flounder trip a week before Christmas and the gulf wasn't fishable again 'til New Year's day. Luckily the first three days of the year had everybody on my boat catching lots of fish.
The New Year means Trigger fish and greater Amberjacks have reopened. We never know for how long but it sure is nice to be able to keep a pile of fine tasting Triggers again! I have parked the catamaran and am running the vee hull with the federal permits so we can blast offshore and chase the big Greater Jacks if my anglers want to.
No one was keen to do it the past three days, being quite content to stay inshore catching triggers and vermillions. Lots of both species around along with Red Snappers on just about everything. There are still a few Flounder on the inshore spots but they have pretty much thinned out.
We tried for about 30 minutes yesterday and my folks put two in the box and missed a few more. Capt. Phil and his charter tried hard for three hours and got 11 of the flat critters before they made a quick run out to catch a few Vermillions to fill up the box. I'll probably put the flounder tackle up for another nine months and spend my time chasing the deeper dwelling, bigger bottom fish.
Here are pics from the few trips I got in the past month.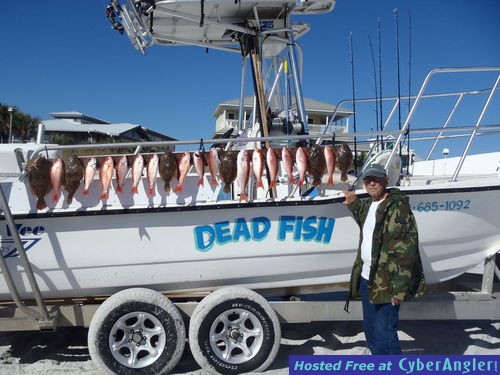 This fellow didn't catch 'em all but his buddies took off as soon as we hit the beach... he gets bragging rights on a full box I guess.
Two of my regulars with part of their 18 flounder catch in 3 hours the week before Christmas.
A limit of Triggers and Vermillions on a cool but calm New Year's half day trip.
Another limit on the 2nd day of the year.
These guys had wanted Flounder but were pleased to catch a limit of Triggers along with a bunch of Snappers. That gal released a 20-pound Red Snapper as well.
 
January and February are traditionally the best months to chase Amberjacks, just gotta get that pretty, calm day between fronts. I am standing by to chase 'em as soon as the weatherman gives me the heads up!
Tagged
Add comment