Story
South Walton's Inaugural Fashion Week October 11-13 | Call for Designers
July 4, 2013 by SoWal Staff
An area typically known for groundbreaking architectural inspiration and the birth of New Urbanism with its towns Seaside and Alys Beach, South Walton will now dip into the fashion world with South Walton Fashion Week on October 11-13. This inaugural event will take place in Grand Boulevard's Town Center at Sandestin in South Walton, Florida.
 
South Walton's beaches usually conjure images of sunglasses, swimsuits and straw hats, all the while beckoning such visiting fashionistas like Katie Holmes, India Hicks, Reese Witherspoon and Jessica Simpson. This scenic area now strives for a place on the fashion map with its inaugural fashion week full of dynamic events.
 
South Walton Fashion Week will call aspiring designers and models for a fashion extravaganza to benefit the Cultural Arts Alliance of Walton County. The event also pays homage to the local designers, as well as spotlighting upscale boutiques during the event series.
 
Designers may apply for the "Emerging Designers Show" beginning June 15, 2013 through August 31, 2013. Applications must be submitted at swfw.org. Celebrity judges include Cassie McConnell Kelley, author of style blog Womanista and wife of Lady Antebellum's Charles Kelley.
 
To purchase tickets, visit swfw.org. See ticket pricing and event schedule below:
All schedules subject to change
Friday, October 11  | $50 Advance / $65 Door
VIP Party + Style Lounge: 7 p.m. - 9 p.m.
Shop the Block: 9:01 p.m. - 11:00 p.m.
Exclusive After-Hours Styling/Shopping Experience
 
Saturday, October 12 | $50 Advance / $65 Door
Pre-Party: 6 p.m. - 7 p.m.
Exclusive Runway Shows: 7 p.m. - 8:30 p.m. (Official Lineup TBA)
Emerging Designer Show: 8:30 p.m. - 9 p.m.
After-Party: 9 p.m.- 11 p.m. (Featuring DJ Brian B)
 
Sunday, October 13 | $20 Advance / $25 Door / Students Enter Free
SW Accessories Show: 2 p.m. - 2:30 p.m.
Over the Top: 2:30 p.m. - 3 p.m.
Young Designer Accessories Show
SW Children's Boutique Shows: 3 p.m. - 4 p.m.
 
For more information, please contact Jennifer Steele, Executive Director of the Cultural Arts Alliance at (850) 622-5970, email info@swfw.org or visit swfw.org.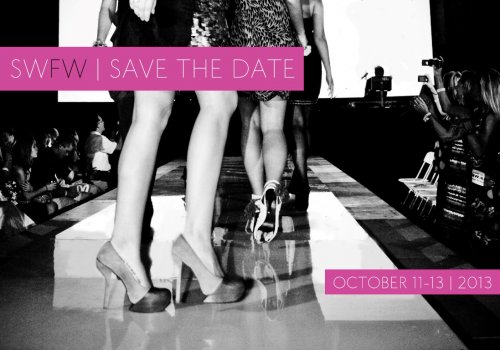 Tagged
Add comment