SoWal Beaches Have Cooler Water, Hot Fishin'
November 11, 2010 by Larry Pentel
The last cold front to come through was a real one, dropping the night time temps down to the low 40's and bringing a hard Northwest wind.
The Gulf temp has dropped down to right at 70 degrees on the beach. While this turns off the swimmers in shorts and bikinis it sure makes the fish bite!
I had to cancel both my trips last Friday as the wind was just too much for it to have been any fun on the water.
I was able to run trips both Saturday and Sunday under much better (fun) conditions and we did well right up in close, never more than three miles off the beach.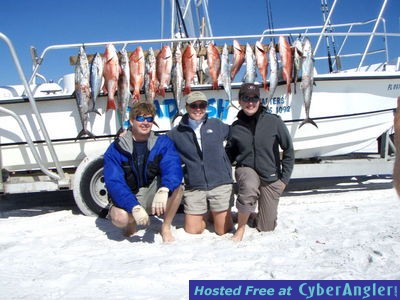 A limit of Kings, a limit of Snappers and a bonus Grouper !
Working on a fine box- The Groupers aren't small, that's just a BIG Red Snapper.
Monday I took off to go get the fish camp at Indian Pass all put together to run some trips there next week. In between cleaning and washing I managed to get in the water and fish myself a little bit. I am happy to report that the Redfish are right up on the mud flats in the skinny water and they are hungry!
One of the neighbors with his first sight fished redfish hooked up.
At the boat.
I actually got to catch 5 reds myself. What a blast! Of course it is a little more interesting when you are trying to pole the boat and fish at the same time. I missed a bunch while trying to (quietly) set the pole down, pick up the rod and make an accurate cast! The weather conditions there were perfect- high sky, light north wind, clear water and the temp was mid 70's. I may not to get to fish that often myself but I do get some the best days!
I went out right at sunset to check the trout bite as well and was not disapointed. While I did not find 'em stacked up anywhere I caught half a dozen nice fish in an hour. Enough that I wasn't worried about running paying trips next week---------
Take off one of these fine , warm, calm fall days and go Fishin' !!! Plenty of opportunity out there.
Tagged
Add comment