Spring Break Fishin'
March 18, 2013 by Larry Pentel
Man, lottsa folks in town here in SoWal for Spring Break. While I usually take families this time of year, I have run a few trips with college folks who have had a big time.
It is always amazing to someone who grew up on the water and the beach (like me!) to see folks who have never been fishing out in the Gulf before. While I am used to helping "kids" catch their first big fish, it is even more fun to watch a "20 something" hook into a big critter for the first time and get to feel their excitement. I love it when I can beat down somebody less than half my age on a good bite! When your arm is tired from cranking in fish it was a good day!
These three guys got on the boat and I asked 'em if they wanted to catch a bunch of smaller dinner fish or make a run for a few big fish. They replied, "big".
Success! Big fish on a 4 hour trip!
An even bigger critter at the boat! This Bull Shark chomped down on a fish already on the line - a pretty common ocurrence. We brought him in and let him go - not good eatin'.
 
I have folks ask me all the time if they can catch anything on a 3 hour afternoon trip. These folks are proof.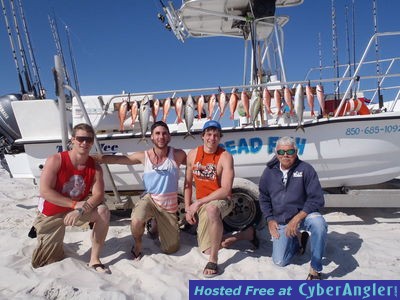 This fellow fishes with me a lot and loves to eat Vermillions. While I only have so many nails to hang fish they had a box full of more fish. They had 38 Vermillions on a 3 hr.!
Another great trip - and some more new anglers.
College guys on a first Gulf trip. They had a blast!
The 2 kids caught the big Amberjack! I put both of 'em on a 6/0 and told 'em "Teamwork"--- 'course we lost about a dozen more.
This gal did great catching her first ever Grouper.
The water temp actually dropped a couple degrees since my last report but ... the first Cobia has been caught! A private boat out of Destin caught one on the bar day before yesterday, about 40 pounds. Capt Jody caught one bottom fishing out of Grayton the day before as well. It won't be long now and it'll be Cobia fever!
Tagged
Add comment