Spring Fishing Finally in South Walton
April 4, 2014 by Larry Pentel
I think Spring has finally arrived here at the beach. For a while there it seemed like winter was never going to end. The water temp is still lower than it should be this time of the year at 66 degrees but the fish have started moving in as they should.
I have caught bait (squids, small cigar & mackerel minnows) the past several mornings. The Cobias have shown up, we caught 14 Spanish the other morning right off the beach before going bottom fishing and Bobby Steeno caught two Pompano yesterday afternoon. One of 'em weighed 3.3 pounds to take the lead in the Pompano tournament.
I have been running family trips, lots of kids and lots of bottom fishing with good results the past 10 days, coming in with 50 to 80 fish in the box on a half day trip. The jacks have pulled a dissapearing act for a while but the Vermillions and Triggers have shown up in force to more than fill the void. Today was supposed to be my first cobia trip of the year but, alas, it was just a little to windy and surfy this morning to be able to safely go. Quite a few cobia seen the past 2 days. I can't wait to go chase 'em.
In the meantime here are some happy Spring Break fishing Families...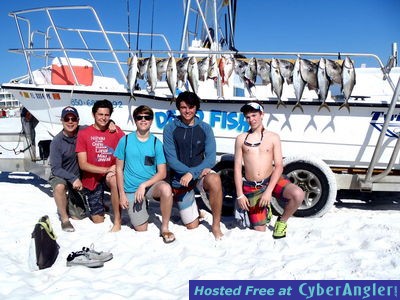 Dad and the Boys with the last great Jack Bite.
 
These guys have fished with me for years and love to eat those Vermillions!
 
Some of the first Spanish for the year, along with some Triggers, Pinks and Scamp.
 
More family fun with Vermillions, Triggers and Pinks.
 
These guys had never been before and caught a pile of fish.
 
Another batch of regulars who know how to cook 'em up.
 
These boys kept score, the winner landed 34 fish ( by himself).
 
Just to show there are big fish around as well. We just have to release the gags and Red Snappers right now.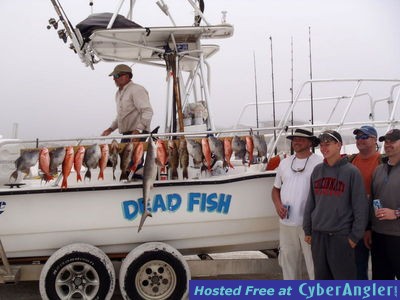 What the crew didn't have to release. A limit of Triggers, limit of vermillions, 4 scamp and a shark...LOTS of fish still in the box!
The Kings, Cobia and Mahi should all be showing up in force over the next 2 weeks. As soon as that water temp hits the magic number of 70 degrees the fish will be everywhere!
Get out there and catch something!
Tagged
Add comment