Amberjack, Cobia & Mackerel at Grayton Beach
March 20, 2011 by Larry Pentel
The weather has just been fantastic, allowing me to take a bunch of spring-break families way out on a slick, calm Gulf. I have been steady targeting the Amberjacks with side stops for triggers and vermilions.
All this nice warm sunshine has let the water heat up and the Spanish Mackerel showed up a week or so ago in force. I ran my first 2-hour afternoon trip of the year the other day with a mom and four boys who had a blast catching about 40 mackerel in short order.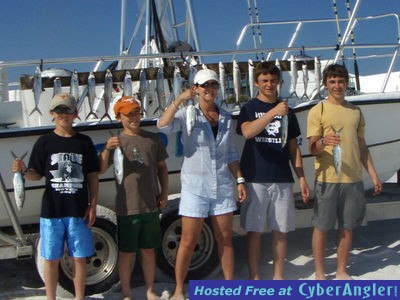 Happy to be Here !
The warm water has also got the cobia going with the first real "run" happening yesterday. I was on the beach cleaning Amberjacks in the afternoon and watched 3 fish caught in front of me on the bar. Captain Sam Wesley brought the first brown-backed crab cruncher into Grayton yesterday .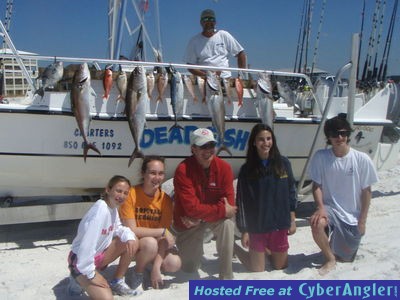 A great catch but it hurt to clean 'em and watch the other guys hook cobia!
I took the Amberjack tackle off the boat yesterday evening and I'll start targeting cobia starting tomorrow (chore day today). Not only does it look to be a good season but I have a new finder that is top notch.

Nothing but the best in fish finding equipment on the Dead Fish.
Here are a few more catches from last week. My folks have had a big time tussling with the critters on one of the nicest Spring Break weeks I can remember.

I'll put two kids on a rod and let 'em team up on the big Jacks.

The Black Snappers seem to starting to show up a little too.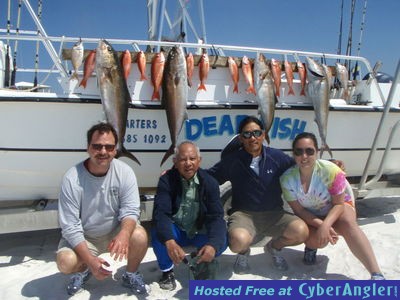 Snapper, Jacks and big Smiles
Get out there and catch something - The Pompano have started as well so you don't even need a boat!
Tagged
Add comment