Story
Big and Easy - Fishing in South Walton, Florida
June 8, 2015 by Larry Pentel
After a bit of a bumpy start, both weather-wise and the bite, we have settled in to some easy fishing with great limit catches of Red Snappers. The Amberjacks are STILL up in shore and we were chasing them after a snapper limit until they closed on June 1st.
Even though I have been staying away from the spots that hold big schools of 'em we still get surprised about everyday by a stray 'Jack biting a snapper bait. The groupers that had seemed to be in hiding most of the Spring suddenly started biting hot on this full moon phase.
We are still losing more to the bottom than we land and Gags are closed until July 1st but it sure is nice to get that freight train bite a few times a day. Even nicer to be able to add a big Red Grouper to a box of Red Snapper!
The Scamps are still up in close as well with about half of the ones we catch being of legal size. The Kings have slowed a bit from a couple weeks ago but there are still some around. I think there are more here than making the boards just 'cause everyone is targeting snappers primarily. We King fished yesterday for about 45 minutes after getting our Red Snappers and went 1 for 6, bad odds but a lot of excitement & we added a different species to an all ready full box.
Here are a few of the folks that got braggin' rights with me the past 10 days.
Amberjacks, Red Snappers, 'Macks & Scamp, a busy 4 hours!
This was a quick " run from the weather" trip, not bad for just over an hour!
Limit Amberjack and a limit of Red Snappers on a 4 hr. morning trip. That's some fast fishing!
Locals with some Big Red Snappers on a "slow bite" afternoon trip.
Another great morning board. The fellow w/ the beard has fished with me for years and tried to explain to the rest of 'em when that Cobia hit the deck that "our day is made !" We went on and filled up the box anyway!
Another batch of locals with a limit of fine Red Snappers and 2 big Red Groupers for bonus fish.
We have been catching and releasing some FINE Gags the past 10 days. This fellow has fished around here all his life and couldn't believe this fish was only 3 miles off the beach.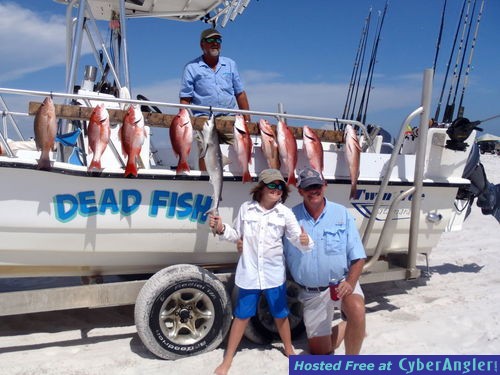 He and his son (who is the most hardcore fisherman of any age you'll ever meet) with what we got to keep on a beautiful afternoon trip. Red & Black Snappers, Red Grouper and a shark.
Those 2 girls on the left have been fishing with me since they were 7 & 8 and they are GOOD. Dad actually got 'em this trip though with that big Red Snapper for a "personal best". I think they still each landed more than he did ........and one of 'em did land that big grouper bite.
This mornings trip. Another long time fishing family, I think they have been on my boat for the past 15 years. Some BIG Red Snappers, a fine Red Grouper and 4 scamps.
We seemed to have settled in to the summer "calm" weather pattern for a while so while the bonus fish will change from day to day the fishin' & livin' should be easy ... and the fish dinners will be great!
Tagged
Add comment