Story
Changing Time Zones and Fishing Venues
August 31, 2018 by Larry Pentel
Been awhile since I wrote but I just got back from Indian Pass this week to a "real" computer.
As always we had a big time over there but the Tarpons were scarce until right when we left. Naturally, they showed up thick after my last charter... We caught plenty of fish though. Quite a few Tripletails, I tagged 40 in my first 7 trips and we kept quite a few for dinners too.
The trout were thick out in the gulf in 20-25' ft of water and we had several trips where we limited out on them. Got into the Spanish good and even caught a big Jack Crevalle on a light trout rod while messing with the Spanish one day. The fish story of the trip was having a 150-pound Tarpon eat a small pogie fillet on a Tripletail rig.... It didn't last long but it was sure exciting!
Back in Grayton and running families out to fill the box and the camera memory cards. The Kings are here and we can still keep Triggers in State waters for some of the best table fare in the Gulf. Lots of Vermillions to fill the freezer along with Pinks and always some kind of bonus fish.
Current weather forecast looks like Labor day weekend may be a washout for everyone except the surfers.... today may have been the last calm day for a while. We had a good box of fish but barely got done cleaning 'em before the rains hit, the weather gurus are saying it's gonna blow and rain for the holiday... Luckily we got lots of great days in all ready this month!
Here's pics to prove it:
Limit Kings!
Kings and Vermillions, it's whats for dinner.
Great Father Son time with Kings and Snappers.
Pretty dang good Dad and Daughter trip too with Mahi and Snappers.
3 Generations of fishing family with Triggers, Kings and Snapper.
That's a BIG King!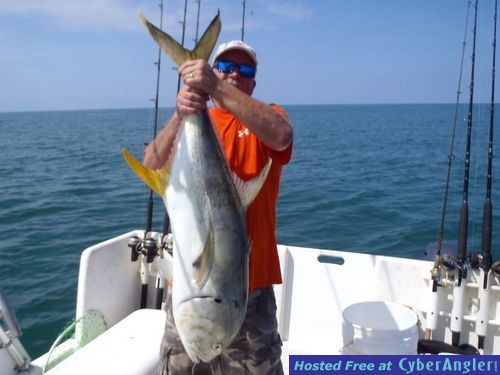 That Jack took 45 minutes to land on a trout rod!
Pair of big Tripletails. The one on the left was a birthday fish and the anglers best yet at just under 20#. Happy Birthday Chris!
Doesn't matter where you go.... always something good to catch! Get out there and catch some yourself.
Tagged
Add comment