Dang Near Perfect Weather and Fishing in SoWal
February 21, 2011 by Larry Pentel
The SoWal weather the past week has just been incredible! Calm seas, Blue water and highs in the mid 70's make for a perfect time to be at the beach.
When we came in from fishing yesterday afternoon there were bikinis on the beach, paddling around on SUP boards and folks surfing without wetsuits. Welcome to an early spring after an early (and hard) winter!
I got to run folks offshore both days this weekend on what could only be described as ideal conditions. We had wonderful experiences both days, not only with the conditions but some fine catches as well.
It may be calm on the top but there is a lot going on on the bottom when you keep getting slammed to the rail.
It was this fellows first time out bottom fishing- From the fun he had I don't think it's his last.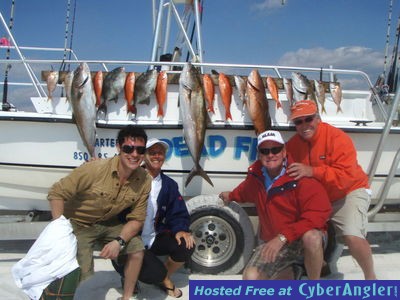 Fish in the Box ! Check out that big Black Snapper for a bonus fish.
My Saturday folks had a big time and a great catch but my Sunday trip was even better for me 'cause I got to fish some too. I had two local regulars on board that don't require (or want!) much help so that frees me up to play a little myself. One of 'em was kind enough to stop fishing for a moment and snap a pic of the biggest Red Snapper I have got to catch (and release) in years.
It's nice to be on this side of the camera !
The fellow that took the picture wanted to catch some jacks on "light" tackle. While this one isn't quite big enough to keep it's the perfect size for a spinning rod- After we have our "big fish" in the box first of course !
Sport Fishing at it's best
A word about all this release fishing we are doing these days. I know everybody wants a pic of that 25 pound Snapper or Grouper before he gets let go but folks - ya gotta be quick. It doesn't do any good to release a fish that's been out of the water 5 minutes because you had to dig around for a camera and then move the subjects around to get the light right.
While I disagree with a lot of the current fishery regulations I am even more opposed to throwing back a dead fish just 'cause folks don't want to move fast. With just a little planning and forethought the vast majority of the fish caught and released in water less than 150 feet will survive.
First, if you know you are bringing something up that isn't in season, yell at another person to get the camera ready while that fish is still coming up. When it makes it to the surface, don't gaff it. Either grab the leader and swing it in or put a small "dehooker" size gaff right under it's jaw and lift it up.
Lay it on the deck and take that ventilating needle you had ready on the console and let the air out. Then lift 'em up and have a quick pic snapped as you are heading back to the rail to release 'em. Remember, there are plenty of other critters out there to put in the grease and now that you know where this one lives you can come back and catch 'em again when the season reopens!
Get out there and get in the sun before mother nature decides to restart winter on us!
Tagged
Add comment