Story
Dine at Borago for CVHN Kids Feb. 18
February 14, 2014 by Teresa Lischka
Make plans to join Children's Volunteer Health Network (CVHN) for dinner at Borago in Grayton Beach on Tuesday, Feb. 18 for A Moveable Feast! Relax and enjoy a delicious dinner with your friends and family and Borago will donate a portion of the proceeds from the night to help local children receive the medical, dental, vision and mental healthcare they need and deserve.
Borago has long been a favorite SoWal dining spot among locals as well as visitors! You'll love the hearty and robust Italian food prepared and served in the trattoria tradition by owner chefs. The restaurant offers a full service bar with a well rounded wine list.  Borago is located on Scenic 30A in the heart of Grayton Beach. Open 7 nights a week from 6:00 p.m.
Come out to support CVHN! Children's Volunteer Health Network, Inc. serves uninsured and underinsured school-aged children by facilitating free, immediate access to medical, dental, vision and mental health services. Since inception, CVHN has facilitated more than 42,000 procedures for over 7,000 local children. The value of these services is over $3 million dollars which were provided free to families in need.
CVHN utilizes a network of over 95 local physicians, dentists and healthcare providers, operates the Just for Grins Mobile Dental Clinic and the CVHN Dental Clinic. We provide a local solution to a local need using local resources and we need your help to keep these services available for our kids.
Moveable Feasts events involve South Walton restaurants supporting CVHN throughout the year. Participating estaurants choose a night where a portion of all proceeds from the night are donated to CVHN. Recent participants are Bruno's Pizza, 723 Whiskey Bravo, CUP Food You Pick Up, and Borago.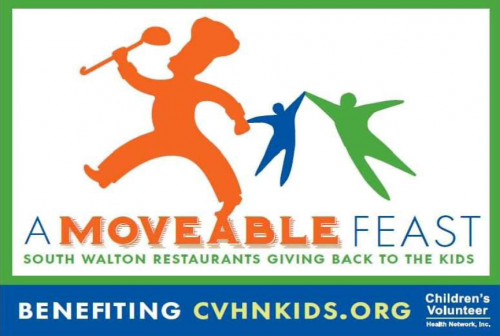 Tagged
Add comment
Business
Town
Destination