Fish Fast - the Weather's Coming
August 20, 2012 by Larry Pentel
Back at Indian Pass today after being at Grayton Beach for 10 days. The bite with the fish was Grayt but the weather has not been very cooperative at all for the past two weeks. I have had to cancel over half my trips lately do to thunderstorms. Oh well- I always say the guy that said you can't fight Mother Nature was wrong- you can always fight her, you are just always gonna lose.
We have had a really good grouper bite in between the squalls. As always, getting 'em to bite is one thing, getting 'em up to the boat is another. The calm seas have helped a lot and I have had several groups get some really nice boards.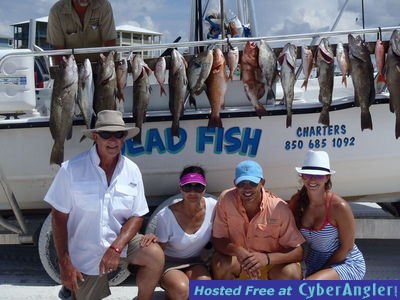 Yep- That's a limit of Gags and some really nice bonus fish on a half day
These folks fished an afternoon trip and said they just wanted "BIG" bites. Not only did they get LOTS of bites, they landed a few fine fish too!
One of the mornings when it wasn't raining at sunrise !
These folks got a fantastic catch of Groupers as well.
This afternoon trip didn't want to keep any fish so I had no problem throwing back all the big Red Snappers they caught. I just couldn't bring myself to throw back the Seabass and Big Triggers though. The beach crew all ate good!!
I am supposed to run a scallop trip today at St. Joe Bay- While the sun is shing here it is pouring at Grayton and may be headed this way. oh well, if it's pretty we'll go, if not we'll sit on the porch and tell fish stories!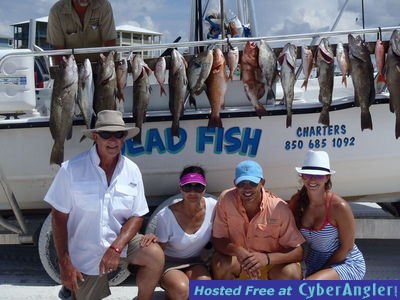 Tagged
Add comment