Fishing in Two Time Zones
December 15, 2014 by Larry Pentel
I just got back from a week of beautiful (but chilly) fishing over at Indian Pass. One of my regulars likes to come in the Fall and chase Redfish up in the skinny water so I poled the flats boat around for several days and we saw LOTS of Redfish to throw at.
As always, it's technical fishing and that lure has to land in just the right spot under their nose for 'em to see it and eat. I do love sight fishing though, nothing more exciting than making that perfect cast without spooking a fish in barely enough water to cover it's back and watching it inhale a lure.
While we saw hundreds of Reds every day the Trout were absent. I guess the early freeze a few weeks ago moved 'em up the rivers a little early this year. We went up the Intracoastal one day that was windy and overcast (not a good day to sight fish) and caught some short trout along with a bunch of puppy reds and one Red that just made the slot at 26 7/8 inches so the fish are in all the usual places for cooler weather.
I got to run several Gulf trips here in Grayton the week prior to changing time zones and the bite was great. My folks caught lots of Flounders, Jacks and Vermillion Snapper along with a few Triggers, Pinks, Scamp and Sea Bass. While it's not the constant adrenaline rush of sight fishing getting the Flounder bite figured out and loading the boat with a pile of flatfish ain't a bad way to spend the morning either!
Here are some pics to prove that my folks aren't just good story tellers...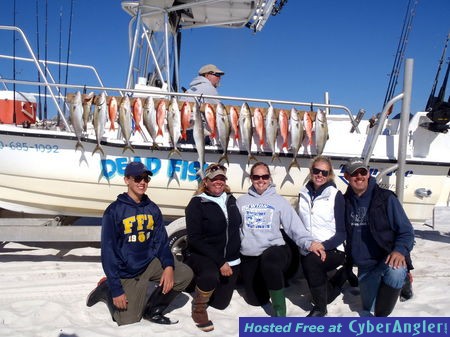 This family fishes with me every fall They got a limit of jacks and a bunch of snapper on this trip.A couple days prior they had a pile of flounder on a trip that got cut short at 2 hours due to rain.
This was the first time fishing for most of this group. They had a great morning catching a cooler full of Flounder.
Another pair that fishes with me every year. They got a limit of Flounders first before I took 'em out to wear 'em out on the Jacks.
This was part of a wedding party on a multi boat trip. I had the groom and he proved that while he may have quit fishing for a gal he was still good at catching those other fish in the sea!
A great feeling when that cast is perfect, the hookset holds and that Red starts peeling off down the mud flat.
I put Capt. Shaun up on the bow for an hour before I had to drive home so he could prove he could catch 'em as well as tell folks how to.....I owed him a favor and this seemed like a good way to repay. Like me he said he had not caught a Red himself yet this fall.
Shaun was kind enough to pole me around for 15 minutes so I blow a couple casts and connect on my third fish... man, but I love to sight fish, no wonder folks pay me to do this! If I hadn't had to get back Seagrove I believe we'd still be out there on the flats.
Once I get this posted I've got to go out and get the Dead Fish boat back in gear to chase Flounders, Snappers and Jacks again. Looks like another batch of pretty weather this week and I've got folks that want to enjoy it by filling up the fish box. See you on the beach!
Tagged
Add comment