Full Boards, Big Snappers
October 5, 2010 by Larry Pentel
The big news is that we finally get to keep a few of those Red Snappers we have been having to feed the dolphins for the past couple of months.
Everyone who went out on the opening weekend came in with a fine catch of Snapper.
The wind turned north a couple of  days before the end of the month and the Kings turned on just like they are supposed to. We have been catching Kings most every day we fish up in close. A couple days they were HOT !
Rather than ramble on I'll just post some pics from the last week.
Still Sept- no Snappers yet but I don't think these folks cared !
Another fine rack of Kings
Opening day brought Kings and Snappers !
More of the Same
Slick calm on the Beach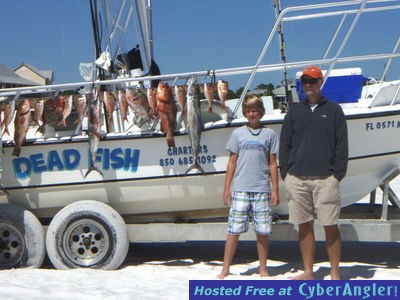 Back to Monday- no Snapper but still lots to catch !
The fishing in October should just get better and better as the water cools a little. Even if you can't make a weekend for the Snappers there are plenty of other targets if you get a day to go.
Tagged
Add comment