Hot Fishing and Hot Weather in South Walton
July 13, 2013 by Larry Pentel
The bite the past few days has been hot for just abut all the species we chase here at South Walton Beaches. After my last report we had several days of rainy, blustery weather that put a damper on not only fishing, but most of the July 4th celebrations.
This past Sunday it got nice again and has turned into absolutely gorgeous, chamber of commerce, postcard-perfect weather. As good as the bite has been and as nice as the weather I still had issues this week.
My starboard motor "quit going anywhere" halfway through the trip Wednesday morning. We finished out the trip on one engine ( with a great catch!) and I took the boat to the mechanic. The prognossis was a stripped crank which required the entire engine torn down and the powerhead replaced. I hope to pick it back up this afternoon at the repair shop and be back out tommorrow for the last 2 days of regular Red Snapper season.
Here's some of what we caught the past week.........
We got this board with only 1 engine for 1/2 the trip... we just went slower than usual.
Snappers, Mahi, Tripletail and BIG Grouper... what more could want on a 4 hr trip?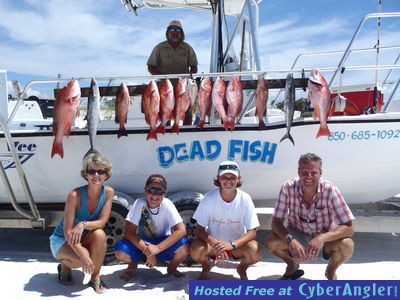 A great Family Fishing Trip.
 
Mom Caught the Big One of Course.
It sure is nice to be able to keep those gag groupers as bonus fish again.
These kids were here on vacation from England and 3 had never been fishing. One more great story to bring back across the pond.
That's a full board...Snappers, Grouper, Black Snapper and Kings.
What do you do when you limit out on Snappers in 2 hours? Why go get a limit of Kings the next 2 hours!
While we won't be able to keep Red Snappers after Sunday there are plenty of Groupers around, Lots of Kings and a bunch of bigger Vermillion snapper that should keep the box full and all the nails covered on the brag board.
I have seen a couple Sailfish this past week as well as a bunch of short Cobia and have heard tales of soem bigger ones caught by other boats. As much as I like the "easy" fishin' for Red Snappers it'll be kinda nice to change up and target some other critters again for a while!
Tagged
Add comment