Story
McCaskill & Company Hosts Konstantino Event Mar. 28-29
March 8, 2014 by Teresa Lischka
McCaskill & Company is hosting a trunk show on March 28 & 29 featuring Konstantino jewelry from Greece. The jewelry is known throughout the world for its unique designs and remarkable artisanship. All Konstantino adornments are individually crafted in Athens and are created from sterling silver and 18 karat gold.
Make plans to visit McCaskill and Company for this special Konstantino jewelry trunk show event! Bring your friends to view the unque collections and enjoy Greek hors d'oeuvres as well complimentary Greek wines. The two day event will run from 10:00 a.m. to 5:30 p.m.
Konstantino is one of McCaskill's most popular events showcasing a vast collection in sterling, 18 karat gold and gemstones. These pieces are inspired by art, architecture, mythology, and people of Greece, as fused through the creative genius of Konstantino Sioulas.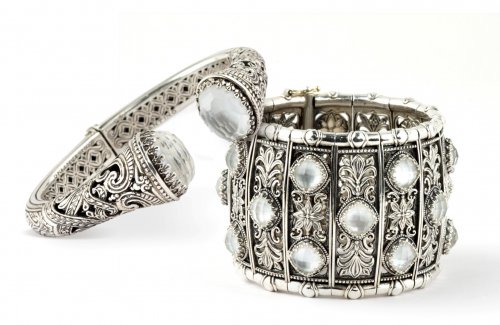 Located in paradise, McCaskill & Company is host to some of the world's most exclusive jewelry designers and watches. McCaskill & Company showcases some of the world's most exclusive designer jewelry and watches in their beautiful gallery in Miramar Beach.
You are cordially invited to visit McCaskill & Company where each visit is a special occasion. The gallery is located at 13390 Highway 98 West, between Sandestin and Destin, just two miles east of the Mid-Bay Bridge. Hours are 10:00 a.m.- 5:30 p.m., Monday through Saturday.
More special trunk shows coming to McCaskill this spring and summer! Stay up to date on SoWal.com events calendar!
David Yurman Event | May 2 & 3
Erica Courtney Personal Appearance and Show | June 26 - 27
Pamela Froman Personal Appearance and Show | July 25 & 26
Learn more about McCaskill and Company at SoWal Business Guide
Tagged
Add comment