Story
Red Snapper Season Super in SoWal
June 18, 2018 by Larry Pentel
The opening of Red Snapper season in federal waters on June 1st had me running the "pointed nosed boat" with the Federal permit out 12 to 17 miles.
We had some great catches, but boy, that was a lot of driving! June 11th had 'em open in State waters and getting to take the cat boat out only a couple miles sure makes life easier on this old captain!
There are LOTS of Red Snappers. Probably the most I have seen in years. Not a lot of big ones but legal-sized fish just about everywhere you stop. We have been releasing a bunch of fish and trying to keep a few of the bigger for the board and dinners. Some Groupers around as well. Not as many as 20 years ago but still more than the past couple years.
As always it's a big difference in getting one to bite and landing him. The huge bull shark population doesn't make getting one to the boat any easier. We have had more nice sized grouper eaten by the "man in the gray suit" than we have been able to get into the boat since they opened June 1st this year. Any one who tells you sharks are endangered has not been fishing (or diving!) on the reefs in the Gulf lately.
The weather has been very up and down.. calm seas but lots of squalls and lightning the past week. Today it's bright sunshine and no wind but a 3'-4' sea from a low in the middle Gulf. Unfortunately I had to cancel. The best summation is "Fishing's great but mother nature always has the last call on the trip".
It's that time of year when I get to take families I have fished the same week for years and years. It's great to remember when the dads were the age of their kids I now get to teach!
This bunch books three days the 1st week of June every year. This year we had to run out to Federal waters on their 3 and 4 hr trips but the results were the same as usual...
Fine Red snappers in that Limit.
A big Red Grouper as a bonus with a Snapper limit.
Not to be outdone... a Cobia and a big Black Snapper for bonus fish.
Another family that has started the yearly fishing tradition. That young lady in the middle caught that fine Red Grouper guys.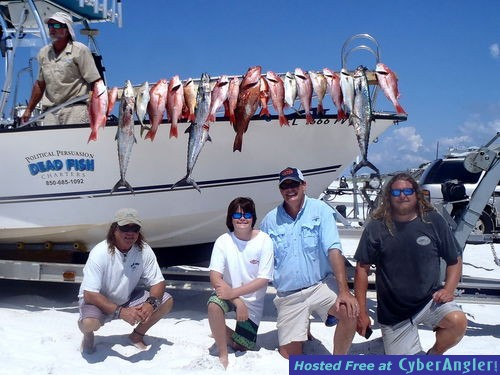 Locals and regulars with a great mixed board. That 11 year old caught the grouper here... by himself.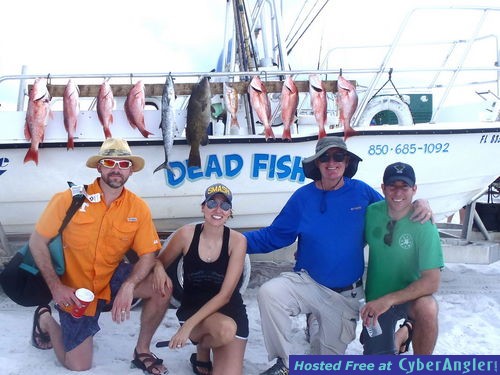 Opening of State Red Snappers, a bonus Gag and a King.
This was a 3 hr that turned into a 2 hr... They had a limit of Red Snappers and 2 Groupers.. told me we could go in, more fish than they could eat.
The King bite has been off since "Alberto" and a strong current from the West. They haven't really been missed as good as the bottom bite has been. Weather pattern looks to change back to more "normal" for this time of year by mid week so the fishing may get even better!
Tagged
Add comment