Story
South Walton Fashion Week Rocks the Runway Oct 9-12
October 9, 2014 by SoWal Staff
The schedule for South Walton Fashion Week (SWFW) 2014 is set for the week in October when glamor comes to the beach. The week's festivities include a launch party, runway shows and style lounge with exclusive pop-up shops. A blend of national and local designers, in addition to emerging designers and local boutiques will show on the runway Thursday, Oct. 9 through Saturday, Oct. 11 in the fashion village at Grand Boulevard in Sandestin.
A series of trunk shows will kick off the week and a press conference on Thursday, Oct. 9 at the Courtyard by Marriott Sandestin, where a panel of celebrity judges, designers and representatives for Visit South Walton and SWFW will answer questions and offer interviews.
Immediately following the conference, the official SWFW launch party will take place at Tommy Bahama Restaurant, Bar & Store. Runway shows will be held Thursday, Friday and Saturday nights from 7-10 p.m. Throughout the fashion village each night, a Style Lounge with pop-up shops will be open for shopping. Pish Posh Patchouli's will host a "Pucker Up with Patchouli's" Red Carpet featuring the latest in lipstick trends and perfumes and the Bijoux VIP Lounge will be open for VIP ticket holders.
Nationally acclaimed designer Mychael Knight and renowned New York designer Jin Seo of 51 Inc, will join local designers and featured partners on the runway with dedicated shows. 
SWFW Official Partner Trunk Shows will be a dynamic part of the schedule this year kicking off on Wednesday with The Market Shops in Sandestin. Schedule of events to date:
Wednesday The Market Shops in Sandestin 5:30pm-7:30pm
Wendy Mignot Fine Pearls and Leather Jewelry in Seaside 6-9pm
Southern Fashion House at Deja'Vu in Seaside 5-9pm
Sirens Lingerie and Swim with Norma Dean Designs in The Market Shops 5-7pm
Friday Perspicasity in Seaside 11am-1pm
Focus Boutique in Seaside 12-2pm
Mercantile in Seaside 12-4pm
Nicole Paloma in Grayton Beach 11am-1pm
Fabr'ik in Grand Boulevard at Sandestin 3-5pm
Saturday The Alys Shoppe in Alys Beach 11am-3pm
Arriaga Pearls Gone Wild in The Village of South Walton, Seacrest 11-3pm
During South Walton Fashion Week, a collection of exclusive boutiques and services will set up pop-up shops in the Style Lounge blending cocktails, couture and shopping.  Attendees will have the opportunity to sip and shop at their leisure on Thursday, Friday and Saturday nights from 5 p.m. until 10 p.m. prior to, during and after runway shows. From Botox and baubles to pearls and beauty product, an array of the most exquisite finds will be on display and conveniently under one tent!  Participating shops include: Arriaga Pearls Gone Wild, August + Brill, Beauty Counter, Lux Exchange, Nicole Paloma, Sandestin Retail, Santa Rosa Beach Dental, The Alys Shoppe, Vivo Spa Salon, Wendy Mignot Fine Pearls and Leather Jewelry, Wine, Women and Shoes.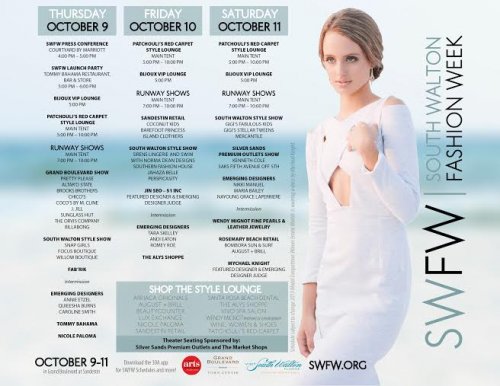 South Walton Fashion Week is produced by the Cultural Arts Alliance of Walton County, presented Visit South Walton and hosted by Grand Boulevard at Sandestin.
Tickets are now on sale with prices starting at $55 for daily tickets and $150 for VIP packages. For additional information, please contact the Cultural Arts Alliance at (850) 622-5970, info@swfw.org and swfw.org.
 
Wendy Mignot Fine Pearls and Leather Jewelry meets Nicole Paloma designs. Look for these extraordinary designers on the runway at SWFW. Photo by Dawn Chapman Whitty.
South Walton Fashion Week's events will showcase South Walton's premier fashion boutiques and local and national designers with exclusive runways shows, special events and trunk shows; host a national Emerging Designer Competition and Model Competition, ultimately helping launch careers of up and coming talent. The festivities will take place throughout South Walton in upscale boutiques and in Grand Boulevard at Sandestin's Town Center. A Style Lounge with Pop-Up Shops, a Launch Party, and Runway Shows will shape South Walton Fashion Week, bringing fashion to the beautiful sugar white beaches and turquoise waters of Northwest Florida's Gulf Coast.
 
Tagged
Add comment
Business
Photo Gallery
Town
Destination