Story
SoWal Winter Fishing Report
January 16, 2018 by Larry Pentel
My computer is telling me I haven't written in a while but there is good reason, it has been cold folks!
The past several weeks we've had three cold fronts make it all the down to the beach. When I get asked about winter weather here I usually reply that it will freeze about once a year. It has been below 32 for three periods so far and it looks to be again tomorrow. Not to say we have not had some really pretty days in between, just not as many as we would like! Christmas week was very nice, cool but mostly calm and I got five trips in which is more than normal. We did real good with the Vermillions, caught a few Flounders and just had a good time filling up the box every day.
My wife and I went over to Indian Pass just after new year's for a little vacation of our own. It was cold so we didn't spend much time in the boat but I did get one nice afternoon sight fishing redfish on a bus driver holiday and had a great time. Didn't even keep a fish, letting 'em go to fight another day. We did walk out on some oyster bars in the lagoon and fill up our five-gallon buckets for some mighty fine seafood meals a couple days. The hard North wind had the tide so low we could walk over most of the bars we normally would have had to boat to.
Today was the first calm day in a while and the last day of a 15 day Triggerfish season in Federal waters due to a confusion by the Feds in their rulemaking. The same snafu has Greater Amberjack open until the 26th as well so a couple folks had me run em offshore to take advantage. We got our limit of Triggers pretty quick, went on to to get a limit of vermillions ( most were huge, 2 to 4 pounds) out deeper than I usually go and then on to chase AJ's.... While we only landed one (pic below) but they had some really big ones on that won the battles
Here's some pics...
Eastern Lake local with a big jack that lost today!
Local that skipped out of work early to catch a limit of Flounders before Christmas..they didn't make me hang all or even clean 'em!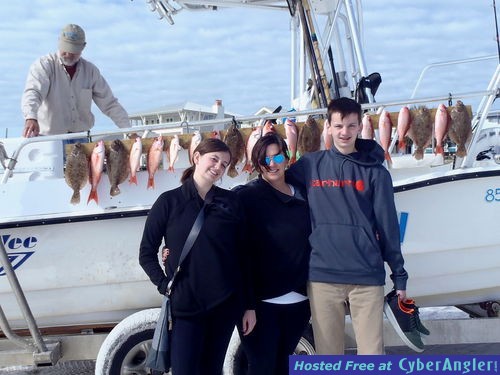 This Mom took her kids on a Christmas fishing trip and they all had blast!
Another holiday catch with Flounders, Pinks and nice Vermillions and a good Black Snapper.
Guys trip with part of a limit of snappers.
These guys fished just ahead of a big rain front. They showed up and I told 'em we were not going to be able to get 4fourhours in but if they fished hard we could get a good catch before the downpour. They got a limit of 40 Vermillions and we made it back in exactly two hours after we left. Mary and I cleaned fish as fast as we could and got done less than five minute before the bottom fell out.. I love it when a plan comes together!
All those oysters ready for picking! Those white dots out in the Lagoon are a flock of white Pelicans, they winter there every year and we saw more this year than ever before.
Probably not a lot of pretty days in the Gulf for the next month so if the weather man predicts one I'll be ready blast offshore. I still have lots of reels to rebuild and fiberglass to grind on before the Spring season hits so it may be a good thing to have some weather-induced time on the hill.
Tagged
Add comment