Spring Break Fishing is Booming
April 9, 2013 by Larry Pentel
I have been hard at it - baiting lots of hooks and cleaning lots of fish. Plenty of Spring Break folks at the beach and I have done my best to get a bunch of 'em to eat (really) fresh seafood while they are here.
My trips for the past ten days or so have been running on an almost regular schedule. Catch a few baits, catch a pile of Jacks, run a couple miles, catch a pile of Vermilion Snappers, run in and clean fish as fast as I can for an hour and a half. As always on the Gulf we have had a few very exciting "surprise" catches this past week as well.
With Red Snappers closed till June 1, Gags till July 1 and Red Grouper and Scamps opening today - the Jacks and Vermillions have been a welcome staple for the box. We have caught a bunch of Scamps this week and some Red Grouper as well that have been released. Hopefully they will bite as good when we can keep 'em!
A great Fish-- Coulda Kept Him Monday!
These boys have been fishing with me for years-- They had a pile of Snappers-- Their sister had to get in the pic too.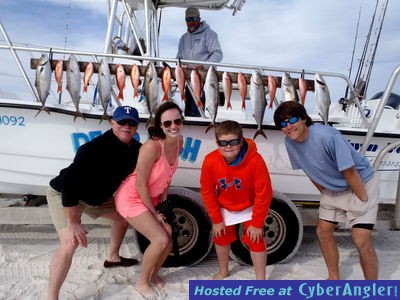 A Spring Break Group with a typical catch for lately... lots more in the box.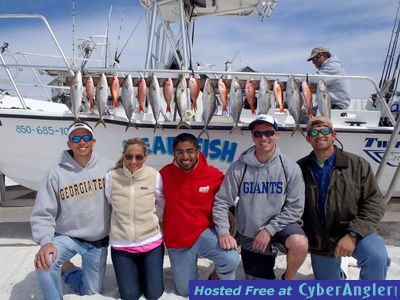 This was part of a group trip for a wedding party w/ the bride & groom on the far left. They had a bet on the biggest critter so I got the groom to catch a Bull 'bout 175 pounds.
This was a 2-hr afternoon "kids trip". That Mako swam up chasing a Pink Snapper and all of a sudden it was a Big Game trip for Dad as well.
 
Another long time fishing group with another great bonus fish.. we have caught several nice Black Snappers this week.
 
These guys have fished with me for years and Dad loves Red Snapper.. since we got Vermillions instead they got to keep 37 instead of 8!
The Cobia run is late this year.. along with the warming temps. The water temp on the bar (finally) made 65 degrees yesterday and today. The magic number is 67... a couple days at that and the Cobia and Spanish will be all over the place. I have seen several Pompano caught this week off the beach so everything is coming along ...just a week or so later than usual.
If you haven't done it already, make sure all your tackle is ready to go. Don't miss a chance to go fishing in the spring!
Tagged
Add comment