Story
Spring Fishing at SoWal Beach
April 6, 2018 by Larry Pentel
It's definitely Spring Break time here at the beach.
Lots of families on vacation, lots of traffic and lots of fish in the box. I have been mainly taking out family groups with school age kids the past couple weeks and we have been wearing 'em out catching Triggerfish, Vermillions and Pinks. So far we have been able to limit out on Triggers every trip but it is starting to get harder to find enough over the 15" fork length with LOTS of just short being thrown back.
There have been a few cobia caught but the big "run" has yet to start. I ran my first cobia trip of the year yesterday and while we had perfect conditions we did not find one. We did catch a few Spanish and we found 2 big schools of Tarpon so the flood gates on all the pelagics are fixin' to open here in the next day or so. When the fish show it's pretty much overnight. One day there is not much there and the next there are big balls of bait everywhere, Kings running around the bar, schools of Mahi coming through and everybody seeing cobia.
Still plenty of Red Snapper around as well as some Amberjacks for catch and release fishing, some of the snappers are BIG too. We are going to be able to keep Amberjacks in May but they will have to be 34" fork length. The Feds have STILL not told us when Red Snapper season will be this year. At this point it is obvious that NOAA and Federal Marine Fisheries really don't care at all about those of us that fish. The main concern is just being able to continue their ever expanding bureaucracy.
There have been plenty of Pompano caught off the beach the past couple weeks for the shore bound angler. Sandfleas are still the bait of choice but a peeled shrimp or fish bites in a pinch will catch a pomp.
Here are a few of the fishing families from the past few weeks...
Family Fish Fry
Everybody Catches Fish
Red snapper are still open if you're a shark.
Triggerfish and Vermillion snappers dinners on vacation.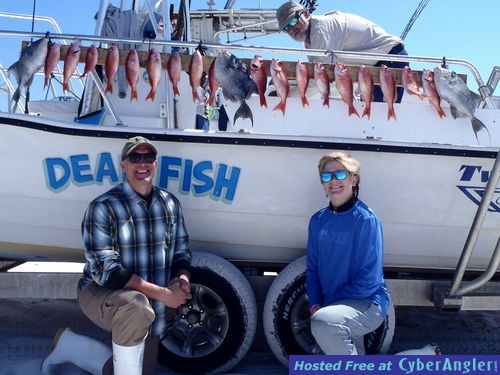 Big Smiles for a full box.
All these kids have so much fun!
These guys got a few nice Sea Bass and some Amberines in addition to a pile of Vermillions and a Trigger Limit.
"Hey Capt, can I catch something big before we go in?"
Rainy this Am so I am on the hill. Hopefully it'll clear up for this afternoons folks 3 hr trip and I'll be back to yellin' "Wind on em !"
Tagged
Add comment