Spring Time Fishin' Time
March 12, 2014 by Larry Pentel
After a long and cold winter it is finally Spring here at the beach. The beautiful weather has shown up just in time for the first big batch of spring visitors and the first week of solid charter bookings. I even saw somebody swimming this afternoon when I was cleaning fish! It was 40 and chilly when I launched the boat this morning and 70 and warm when I pulled off the beach. The forcast looks to be just getting better everyday....
I haven't made the run out to the greater Jacks for a while. Either it had been a little to bouncy of I just didn't need to with plenty of Amberines up in close. We have limited out on the lesser Jacks every trip here lately with some great times being had by my anglers... here's some proof...

These boys had a blast catchin Jacks on clear Saturday afternoon 3 hr.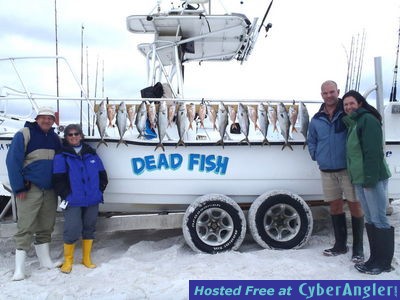 All Bundled up on another 3 hr - the fishing was great but the weatherman lied about the sun!

A fine bonus catch on another wonderful day.

Todays board... a limit of Jacks, a few Triggers, a FINe Red Grouper and a pile of Vermillions. Can't ask for much more on a 4 hr trip!
I heard a rumor today that there was a cobia seen off Navarre yesterday ... no confirmation so it may just be a radio fish. Won't be but another week or so and we'll all be looking for the big brown backs seriously. I put a bait trap on a close in spot and pulled it today to find it pretty full..... if the bait shows the predators are never far behind! We got a pretty good pile of vermillions in 98 ft of water today also. They should be moving in shallower (and in greater numbers) as this week progreses as well.
It's great to be fishing everyday again!
Tagged
Add comment