Story
Summer Music and Movies in the Park at WaterColor
May 9, 2013 by SoWal Staff
WaterColor Inn & Resort has a great line up for everyone in SoWal this summer with weekly concerts and movies in the amphitheater at Marina Park. Bring your friends and family, a chair or blanket for seating, and be ready to enjoy outdoor entertainment under the stars.
Movies are shown at sunset and begin Memorial Day running through the summer on Tuesdays and Thursdays. Concerts begin May 22 and will take place on Wednesday nights at 6:30 with special holiday performances at 5pm scheduled through Labor Day weekend. See Summer Events in the Park 2013 flyer for all dates and times. 
Movies and concerts are open to the public and admission is free.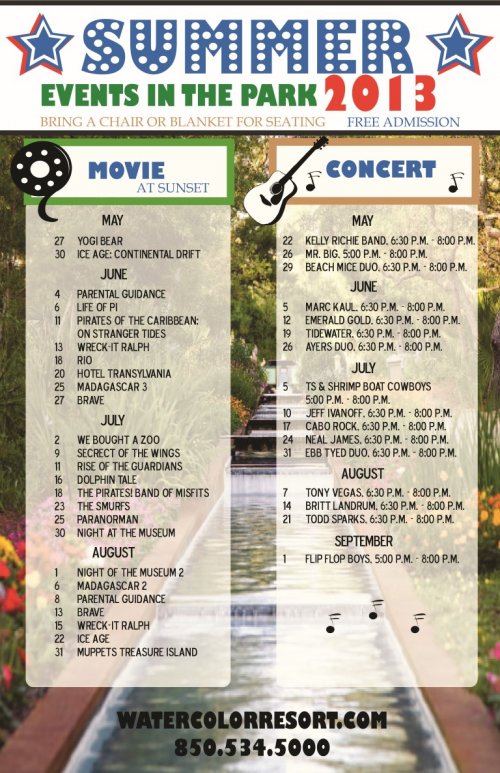 About WaterColor Inn & Resort This extraordinary Gulf Coast luxury destination is nestled along the emerald green waters and sugar white sand of Northwest Florida and is an award-winning hospitality establishment. Created by the St. Joe Company, The Inn & Resort is a wonderland of activities for adults and kids alike. Perfect for a romantic getaway for two or a complete family vacation, there's everything from water activities to golf to incredible shopping and a rejuvenating spa to keep both your days and evenings occupied. Read more and see photo gallery at SoWal Towns | WaterColor.
Check SoWal.com Live Music Calendar and SoWal.com Events Calendar often for complete listings of all the local music and events in and around South Walton this summer and all year.
Tagged
Add comment