Story
Summertime Tour of Homes in South Walton June 25-27
June 25, 2015 by SoWal Staff
Building upon the success of its annual Valentine Tour of Homes each February, the Cultural Arts Alliance rolls out a Summertime Tour of Homes sure to delight vacationers and locals alike who are looking to beat the heat in the steamy afternoons while touring five spectacular homes in South Walton. The tour runs Thursday, June 25 through Saturday, June 27 from 1-5pm each day.
From a Gulf-front house in Blue Mountain Beach just recently decorated by designer Erica Powell, to a Gulf front home in Grayton Beach in addition to homes in Alys Beach, WaterSound Origins and Eastern Lake, all are some of South Walton's most beautiful and unique and are currently on the market.
 
Blue Mountain Beach home on the Gulf
The Grayton Beach home is gulf front and one of the tour's most stunning. The Blue Mountain Beach Gulf front is grand with its updated interior design, three floors offering sweeping views of the Gulf and outdoor terraces. The Alys Beach courtyard house is a modern stunner located in Arboleda Park just steps from the Caliza Pool, and is designed by architect Darrell Russell of Boheme Designs.  It has a heated pool that doubles as a water feature with a waterfall running down a rock wall, an outdoor shower and a doggy shower. The Eastern Lake house features sweeping views of the lake and Gulf Views. Located in a golf community, the WaterSound Origins home was custom built by John Giles and Matt Parenzan and designed by architect T.S. Adams.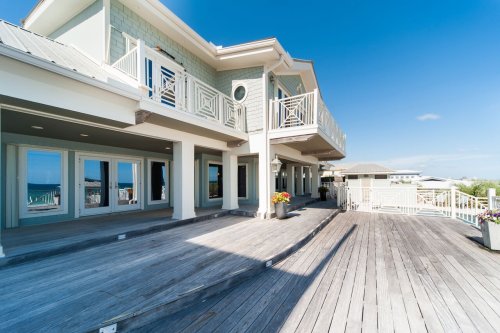 Grayton Beach home on the Gulf
Not only will ticket holders be able to view award winning architecture and design, they will also see their favorite South Walton artists work on display and for sale at each home with 30% of the proceeds going back to the CAA. Artists include Joan Vienot, Matt Lyons, Francisco Adaro, Chandler Williams and many more.
General admission tickets are $30 in advance and $35 at the door. Tickets can be purchased online at culturalartsalliance.com or at Smith's Antiques in Destin, Fusion Art and Glass at Grand Boulevard, Sundog Books in Seaside and the Bayou Art Center in Santa Rosa Beach (CAA office).
 
Alys Beach home
A daily $60 VIP shuttle package is also available and will include a one-day tour ticket, free parking and an air-conditioned shuttle ride to each of the homes. Tickets for this VIP package must be purchased in advance at culturalartsalliance.com and redeemed for wristbands inside Emerald Coast Wine and Spirits at WaterColor Crossings between 12:00 p.m. and 1:00 p.m. the day of the tour. Shuttle parking is located on the green lot south of the WaterColor Crossing Publix building. The VIP shuttle tour will last four hours with dedicated time to tour each house. Emerald Coast Wine and Spirits will have wine packages available for shuttle passengers to purchase and enjoy on the tour.
Summertime Tour of Homes | June 25 - 27, 1:00 - 5:00 p.m. 59 Auburn Drive, Grayton Beach 
288 Blue Mountain Road, Blue Mountain Beach  
422 Eastern Lake Road, Seagrove Beach
60 Spice Berry Alley, Alys Beach 
731 Breakers Street, Watersound Origins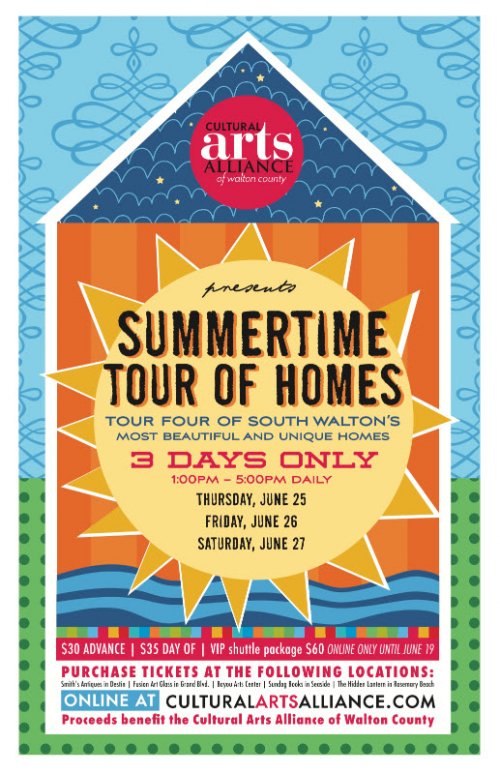 All proceeds from the tour go to benefit the Cultural Arts Alliance of Walton County to fulfill its vision of making Walton County a destination for artistic and cultural excellence through which lives are enriched, economy is stimulated and community is strengthened.
The Cultural Arts Alliance of Walton County (CAA) is a Local Arts Agency that supports the arts through leadership, advocacy, funding, programs and education. The vision of the CAA is to be the catalyst for Walton County's growth as a destination for cultural and artistic excellence through which lives are enriched, economy is stimulated and community is strengthened.
Tagged
Add comment