The Drought is Over and Fish Are in the Boat!
July 23, 2013 by Larry Pentel
Anyone worried about the drought of last year can rest assured it is way over. We have had enough rain this month to make up for any deficit from the past two years! While the catching has been good when we have gotten out, the going fishing has been sporadic with the weather (wind and/or rain) keeping me and the other Grayton boats on the hill about half the time since my last report. 
I got my "new" engine back in time to run a couple of Snapper trips before the July 14 closure. It sure was nice to be able to keep Red Snapper and all the Groupers at the same time for a while. With Red Snappers closed I shifted gears and went into surface fishing mode for a few days and we were rewarded with some spectacular Mackeral bites.
Not only a pile of fish but some spectacular skyrocket bites that put the Kings 25 feet in the air when they hit the baits. Not everyday has the Kings starving all trip so I had a few trips where we mixed it up with good success on the bottom as well.
Here are some catches since last report.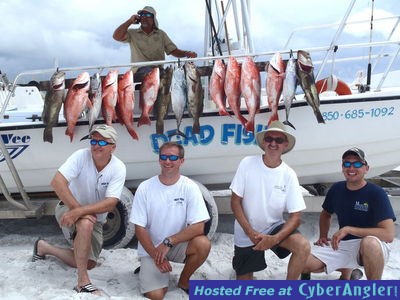 The last Snapper catch of July...with some fine Grouper too!
 
These 2 girls had a blast helpng Dad and Granddad catch Kings.
These kids were big enough that they didn't need much help from dad.
These guys have fished with me for 14 years and love King fishing. We limited out and came in early on a bouncy morning.
Some nice Kings and some Vermillions just to change it up.
My "King Crew". The Kings were not as hot this trip so they "had" to catch some nice bottom fish as well.
A great mixed catch - Kings, Groupers, Lane Snappers and Vermillion.
I am fishing here (weather permittting) for a few more days and then off to Indian Pass for a month of Tripletail, Tarpon and Scallops. The reports I am getting from there are a banner year for Tripletails, slow Tarpon fishing with all the fresh water run off and a good Scallop season.
The Tarpon should pick up as soon as the rain gets drained out a bit. I have two days left open over there in late August ( the 19th & 22nd) if anyone wants to come over and fish in "old Florida". I'll be back to Grayton to fish here on the 29th of August again.
And...the feds have set a fall Red season! After their scientists said we could catch twice as many fish as what the current quota is without causing overfishing, they kinda had to raise the quota a bit. The current proposed season opens October 1 and runs for 21 days. Now this IS the feds and politics so it could change but...WooHoo! Snappers and Groupers at the best time of the year to catch 'em!
It may be a while before I can post pics again as I don't have a photo program on my laptop that I take to the Pass. I'll try to post some reports though just to give folks an idea on the bite.
Tagged
Add comment