Too Many Fish to Clean in SoWal
April 30, 2014 by Larry Pentel
I guess nobody ever "deserves" great weather but we were sure due for some of the days we had last week. I went from sweatshirts and boots to short sleeves and flip flops. As you may have heard we got our share of rain - but it sure is nice for the temps to feel like beach weather again!
The last big cold front knocked the beach water temp back 5 degrees from 70 to 65. That really slowed the cobias down but seemed to make the bottom bite even better. We had no problem limiting out on Vermilions ( 10 per person) even on the short afternoon trips for most of the past 10 days. The trigger bite has remained great, the Kings have shown up and there are still quite a few Scamps around. The water temp was back up to 75 yesterday and the cobias seemed to come right back with the warmer water. I ran 3 trips in that cooler slot where we did not even see a cobia.
Yesterday I had an all day trip booked, bottom fishing first and then cobia for the rest of the day. We got a great box of bottom fish including a limit of Triggers, some Vermilions, a couple Scamps and even a pair Kings and hit the beach at about 10 AM looking for cobia. We didn't look for 20 minutes before finding a pair right up on the top. I hooked the bigger fish on a jig and my angler had quite the tussle for over 30 minutes before we had her in the boat. We had several shots at the second fish but no luck in getting it to take a bait. The weather took a fast turn to windy, rough and cloudy and we put it back on the trailer at noon for an early finish with a great board.
Here's the proof and braggin' rights for my anglers.
Yesterdays board with a 60# Crab Cruncher in the middle.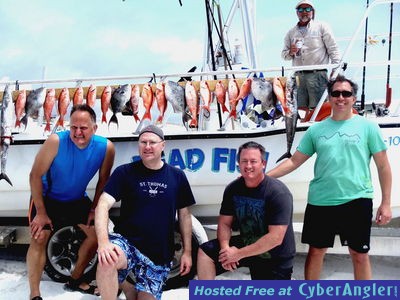 These guys come every year this time. This year they had a limit of Vermilions, some Trigs and even a pair of Kings.
 
These 2 boys outfished dad on an afternoon 2 hr.
 
Son and Mom trip. We limited out with the snappers and Trigger pretty quick and he said catching a cobia was on his bucket list...Cross that one off!
 
This youngster helped cath a limit of Snapper with his dad, Uncle and Grandad on a beautuful beach day.
 
Another pair of Kings with a limit of Vermilions and some Triggers.
 
These guys fish with me every year as well but this time the Gal took top honors with that 38# King and the Shark ( and most of the Triggers ?)
 
These 2 had a limit of Vermilions AND Kings on a 4 hour.
 
Not a great pic or a glory fish but just to prove I can catch a fish too..... I got to ride the tower by myself for an hour between trips and got to catch and release this jack on a few spare minutes "off".
 
What a great time of year to fish off Grayton!
 
We have another slow moving front coming through this week that will curtail our fishing for several days. When it all settles out later in the week the "deck will have been reshuffled", and we'll have a whole new batch of critters to chase. The King bite should just get better as the water warms, the wads of clone cobias should show along with the mahi and probably a few sails as well ( I saw my first one of the year this past week while looking for a cobia).
The Vermilion bite will start to slow down as the water warms but the Red Grouper should come up into shorter water to more than fill any gaps in the adrenaline part of the game. Red Snappers wil open up in Florida State waters ( inside 9 nautical miles) in less than a month on May 24th. Looks to be plenty of fishing excitement coming up!
Tagged
Add comment