Back to Fishing in Florida!
February 11, 2014 by Larry Pentel
I may have got back from Mexico almost two weeks ago but it just now is feeling like Florida again. After one of the colder, wetter Januarys in recent memory the weather has finally returned to what we all look for living at the beach. This past weekend had high blue skies, calm winds and temps close to 70 degrees by mid-day. Just in time too as I think my gills were starting to dry out.
I was able to get the most out of the weather by running folks offshore the past couple days. Saturday I took a boat load of locals and we made the "long" run out and chased Amberjacks with great success. I even got to catch a couple and had a blast. After a wearing ourselves down on the big pulls we switched over to 2 hook gear and caught a box full of Vermillions and Pinks. The Gulf was the calmest I have seen it all year!
Tired but happy after an AJ rally..look how slick it is!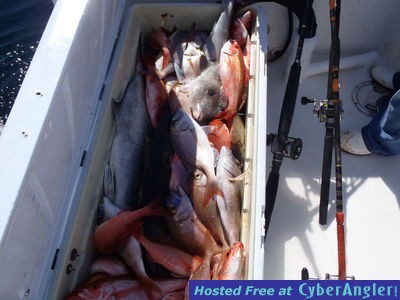 Gotta check the box on the ride home just to make sure they didn't jump out.
 
Showing off the Big fish...that fellow in the middle is 6'4" and 265#...which puts that Jack well over 50#....
Sundays trip had a couple locals and a vacationer and we made the same play as the day prior, Once again the Jack bite was hot and after we kept our 3 fish limit the guys caught and released another 7 or 8 till their arms were tired. The Vermillion bite wasn't as hot as the day before but still good enough that it took me an hour and half to clean fish from a 4 hr trip. The best part was it got even calmer and prettier than the day before!
 
It doesn't matter how good a shape you are in or how strong...Jacks pull hard!
 
A great board and plenty more in the box.
 
I am looking forward to more pretty weather and a warming trend over the next couple weeks. The Jacks should stay hot into March and the 2 hook fishing should just get better as the warms up some. With the Gulf as calm as the last 3 days it doesn't take long to run 20 miles offshore. Yesterday I all ready had live baits so after picking up my folks at 8 AM we had our 1st 2 Jacks on at 8:50.....less time than it takes to clear the rocks from a lot of docks !
There have been a lot of big Bull Reds caught in the Surf this past week and one of the local experts limited out on specks the 2 days it was down in the 20's early in the morning...and he bank fishes.. No excuses, the weather is nice so get out there and catch something.
Tagged
Add comment