Story
Local Catch Bar & Grill Is A SoWal Favorite
October 1, 2015 by Audrey Johnson
It's shoulder season in SoWal and our friends at Local Catch are showing some serious love to the SoWal community that helped get the word out about their wonderful restaurant. Now in their fourth year of business, owners Jimmy Hasser and Adam Yellin are dedicating the menu this fall to the local crowd.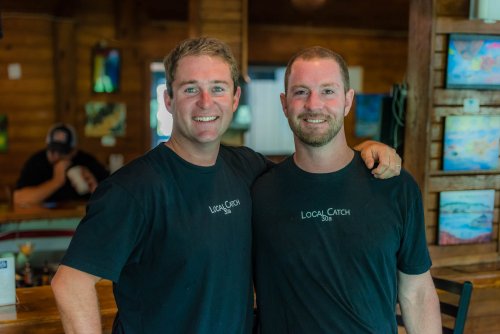 Jimmy & Adam
"We want to make sure there's a ton of value," says Jimmy. Between daily lunch specials, happy hour specials, and wing specials at football kickoff, those in the know will have plenty of reasons to belly up to a table at Local Catch.
[Note - Due to bridge construction at Draper Lake, a detour on Scenic 30A through spring 2016 means you access Local Catch from the west. So if you're coming from that direction all is the same. If you're coming from east of Blue Mountain Beach, take 98 to south on Hwy 393, then east on Scenic 30A. We're making it our duty to visit all businesses on the detour route!]
Local Catch's specials include a $7.99 Weekday Lunch Special. (Think Double Burger Mondays, Southern Chicken Sandwich Fridays, and po-boys and tacos in between.) Boasting one of the best Happy Hours on Scenic 30A, Local Catch is giving you Monday-Friday from 3-7 p.m. to get your drink on without breaking the bank.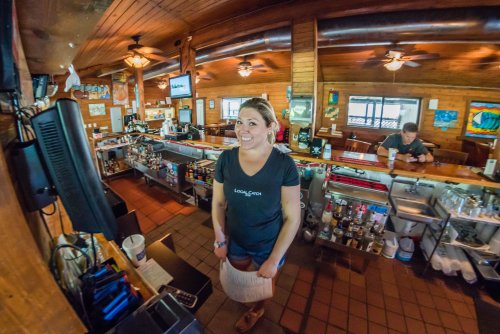 Whitney's Ready!
 
Happy Hour Mondays at Local Catch are for half-priced appetizers, $2 gets you a fried shrimp taco on Tuesdays, and every Wednesday night is Ladies Night with half-priced salads and wine by the glass. Keep in mind you have to grab a spot at the bar or in the high top area to snag the deal. When in doubt, just ask you server. 
Game day specials run Thursday-Sunday and kick off at, well, kickoff. Slam $0.75 wings and $2 drafts while you watch your dreams of fantasy football dominance crumble before your eyes. At least you'll be in good company with great food while you're screaming at the TV.
Changing things up has rejuvenated the guys in the kitchen. And nightly dinner specials will include a couple of appetizers and one or two entrees to keep things interesting. With a well-established staff keeping the kitchen hot (locals will be happy to know that Chris Mangogna from the now defunct Marigny joined the crew), along with rock star servers and bar tenders, Local Catch has arrived as a local institution. Much like their Prime Rib French Dip.
"Everything we do is really simple, it's just seasoned correctly," says Chef Adam. "We use maybe four or five ingredients in each dish."
Pork belly with creole demi-glace is braised in Coca-Cola and grilled to smoky perfection. Then there's the BBQ Botan Shrimp with jalapeno cornbread and a NOLA inspired shrimp sauce. "So you get the fun of barbecue shrimp without the work," says Chef Adam.
"I like to take different cultures and mix them together," he added. Sweet and Spicy wings get their savory flavor from being tossed in a Crystal beurre blanc and gastrique before taking a swim in the fryer.  The Bama Pork sandwich is pulled pork rubbed with garlic and Local Catch's signature seasoning and braised in beer and thyme for two hours. Then it's served with Alabama white sauce and sweet potatoes-Southern barbecue at its finest.
Adam is Top Chef!
 
"All of our food is straightforward," says Chef Adam. "What you see is what you get." And what you'll get is food that looks good, tastes better and doesn't break the bank, all in a fun-loving atmosphere with a close-knit staff to boot.
Not only is Local Catch's fall menu to die for, their fall events will have you dying laughing. From the Tacky Prom Party and their Second Annual Halloween Bash to their beloved Sunday Funday with live music and the ridiculous Tacky Christmas Sweater Party, the Local Catch crew knows how to work hard and play hard, too.
Visit Local Catch at 3711 W. Co. Hwy 30A in Blue Mountain Beach. Local Catch is on the West side of the Draper Lake bridge construction. It's a straight shot from the West end of Scenic 30A. Take the detour route by driving down Hwy. 393 South to Gulf Place, then turning East on Scenic 30A.
Stay social at www.Facebook.com/LocalCatch30A, peruse menus at www.localcatch30a.com, and call (850) 622-2022 for inquiries.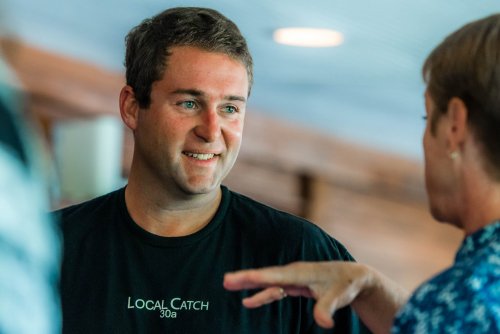 Tagged
Add comment