Nothin' but Big Ones
July 17, 2012 by Larry Pentel
Whew! I have been running hard, two trips a day. Today was the first day in over two weeks I had to cancel a trip due to weather. This morning we had a great catch but it was bouncy coming in and by 1PM I sure didn't want to be back offshore!
Tropical Storm Debbie moved a pile of Groupers up into our area without chasing the Red Snapper away.
The past 2 weeks of fishing have been nothing short of incredible. Limit catches of (BIG) Red Snapper, lots of Grouper bites (Red & Black), plenty of Kings around AND we had a good show of Cobia last week as well! Most of the cobia were short, quite a few by just 1/2 an inch but there were some fine ones mixed in as well. Check out a few of my anglers catches....
 
Fine Snappers and Lots of Groupers too!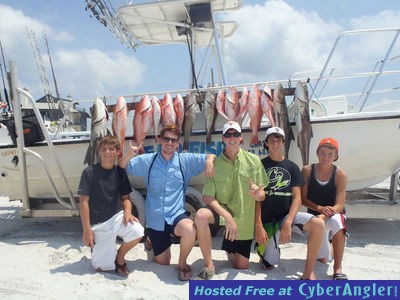 Yep, That's 3 Cobia mixed in with all those big bottom dwellers!
More Big Snapper, Groupers and ... a cobia !
We even had time to fish for a few Kings after limiting out on Snappers and getting a few Grouper... on a 4 hr..
Another fantastic mixed 4 hr catch. The cobia swam up to the boat while we were fighting a King.
Snappers and Kings- The best of both worlds.
Double Red! Red Snappers and Red Groupers!
For all you guys who say "I can't turn the handle" when that big one bites.-- She got both of these off the bottom by herself !
 
Only 2 more days left in Red Snapper season, and there are soooo many big ones still out there.... Luckily there are still lots of Kings and Groupers out there too ! I have a few days of fishing off Grayton next week and then I am off to Indian Pas to chase those giant Silver Fish (Tarpon) for thee weeks.
Get out and go while it's "easy'!
Tagged
Add comment