Story
Sunday Brunch by the Beach
May 27, 2014 by SoWal Staff
Sunday Brunch in SoWal is an ode to our Southern roots. We love to enjoy a laid back, lazy day while spending quality time with those we love. There's nothing better sharing a great meal with family and friends, sipping on cool drinks, and dancing your way into a new week. That's why we're bringing you this SoWal List full of insider tips on where to enjoy Sunday Brunch.
Marie's Bistro
Marie's Bistro in Blue Mountain Beach offers a brunch buffet full of traditional breakfast faves, like quiches and French toast, and lunch time delights, like salads and classic American Cheeseburgers. Marie's Bistro keeps the crowd entertained with live music while you enjoy friends, family, and good food. Enjoy a complimentary mimosa or glass of champagne with your brunch, every Sunday from 10am-2pm.
Great Southern Café 
Great Southern Café in Seaside serves Southern cuisine with a twist. Try the award winning Grits a Ya Ya while sipping on a Bloody Mary with a dash of horseradish and a skewer of spiced beans, pickled okra, olives, and pepperoncini. If you like your breakfast a little lighter, mimosas and beignets are for you. Order Brunch all day long-any day of the week.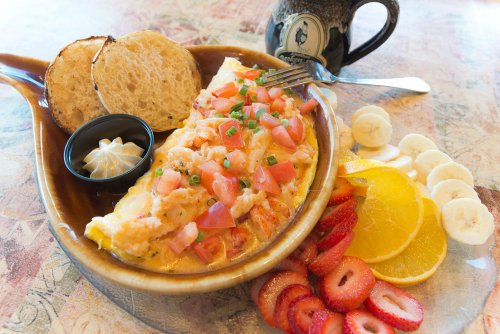 Another Broken Egg Café - Grayton Beach 
Enjoy a down home atmosphere at Another Broken Egg Café in Grayton Beach. Generous portions of fresh made fare leave you feeling satisfied. The signature Lobster & Brie Omelet and the Southern Crabstack create loyal followers. Another Broken Egg Café is open Tuesday through Sunday from 7:30am-2pm, and guests can order from the whole menu anytime.
 
The Red Bar 
Sunday Funday at The Red Bar in Grayton Beach is all about funky tunes by local legends Dread Clampitt, and good food and drinks. Locals line the boardwalk outside as they talk about the weekend, have some drinks, and get ready to go to the beach. Try the Belgian waffles, Eggs Benedict, or any of the regular lunch items for Sunday Brunch from 12-3pm.
Stinky's Fish Camp 
Stinky's in Dune Allen Beach is known for flavorful, fresh food-and brunch is no different. Sunday Brunch features both traditional favorites and specialties like the Rock Star Crawfish Pie with two Sheared Eggs. The Steenos get the place thumpin' from 12-3 with their jazzy bayou sound. Don't miss Stinky's house made Bloody Mary with fresh pickled okra, green beans, and a shrimp. Enjoy Brunch every Sunday from 11am-3pm.
Elephant Walk  - closed for renovations Fall 2014
Elephant Walk in Sandestin Golf and Beach Resort is the perfect place to take family and friends for good food and great views of the Gulf of Mexico. Order the Weekly Featured Quiche or Chef's famous Chicken and Waffles. Enjoy a complimentary mimosa with Brunch any given Sunday from 11am-3pm.
The Marigny 
If you are craving a fresh, delicious brunch with champagne and jazz music, then The Marigny is the place for you. The lively atmosphere makes for an upbeat experience with family and friends. Order off of the "Eggs" or "Big Plates" sections of the menu and receive free bubbly while you dine. Make reservations for Sunday Brunch from 11am-2pm.
The Bowery
The Bowery's elegant charm is reminiscent of a prohibition era speakeasy complete with upscale food, wine and craft cocktails. Try the Bowery favorite French Stuffed Toast with fresh marsala strawberries and crème cheese alongside $8 bottomless mimosas. Enjoy Sunday brunch at The Bowery in Redfish Village from 10am-2pm.
Grayton Bar and Grill 
If you prefer a laid-back beach vibe, spend your Sundays relaxing at Grayton Bar and Grill. Sunday brunch favorites include gluten free Chicken and Waffles, organic Red Velvet Pancakes, Gulf Omelet with Fresh Blue Crab, Burgers, and Po Boys. Quench your thirst with bottomless champagne, mimosas, or their signature Grayton Girl Cocktail. Sunday Brunch is served from 11am-2pm.
723 Whiskey Bravo  
Whiskey Bravo honors the community gathering place tradition by serving great food in a fun atmosphere. Dine and mingle on the rooftop or downstairs while the kitchen whips out Gulf Shrimp and Grits and Jumbo Lump Crab Cakes with Watermelon Salsa. Sunday Brunch is served from 11am-3pm.
 
The Bay
Chef Jim Shirley holds no punches when it comes to brunch at The Bay. Locals eat here, so you know it's good. The menu's always changing, but you can expect something wonderful and creative like the Seared Duck Benedict with an Asian twist alongside Cotton Candy Champagne. Drive, paddle, boat, walk, or run to Sunday Brunch weekly from 11am-2pm. 
___________________________
We'd love to hear about your favorite brunch spot. Be sure to check out the SoWal Dining Guide for more great places to eat, and remember to rate and comment on your favorites. Also be sure to check out the SoWal Dining Forum – it's chock full of great tips and insider info.
Tagged
Add comment