Everything's Biting in South Walton
May 14, 2012 by Larry Pentel
After better than a week's run of nice weather it blew up this morning. My folks were disapointed we didn't go fishing but as I have learned over the years, it's a lot better to be sittin' on the beach wishing you were fishing than offshore wishing you were on the beach!
We have had some really spectacular fishing the past week. A lot of Sargassum weed drifted in close along with the clearest water you've ever seen. Lots of Kings, quite a few Tuna and Mahi all came in close with the nice water. Bottom fishing continues to be good- all the Red Snapper you care to release and a very erratic Red Grouper bite- red hot for 6 hours and dead cold for 24--that on/off switch is hidden well somewhere!
Rather than ramble I'll let the pics and smiles do the talking.
These folks chartered me 2 days last weekend- the first day was the learning curve and the second was for all the marbles.
They asked for "big" bites--- Kings and Jacks fill the ticket.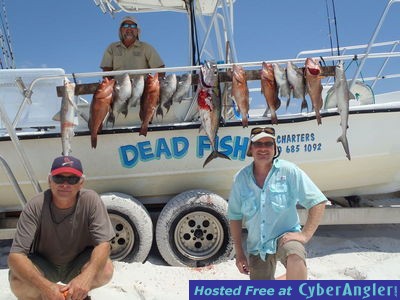 A Tuna always makes the day, after a rack of Red Grouper it's even better!
 
We had a three-boat trip and one boat had mechanical issues so I had to break my rule and take 6 folks. The poor Dead Fish wouldn't go but 11 knots--- no problem, just fish close to the truck.


The boat was crowded but they sure filled the board!


One angler on a two-hour afternoon trip-- I kept him busy!


Some of these guys have fished with me for years-- and proved they remembered how it's done!


The fellow that booked this trip LOVES to Grouper fish- he couldn't make it. So his buds had to make him jealous. That big one is a 27-pound Red. 


Two more first timers that'll be back. Yes boys, she caught the Tuna.


Did I mention there were a lot of Kings and Tuna around? These guys said this was the most diverse catch of fish they had never had.
After all this great (and easy) fishing, yesterday morning was one of those days when nothing I did worked right. My anglers had some shots at big fish but we just couldn't put but a few nice keepers in the box. Plenty for a fish fry and some fine Snappers released but it sure made me remember why it's called fishing instead of catching!
Get out there and go Fishing!!! Looks to be plenty more pretty weather after the weekend!
Tagged
Add comment